Melody Hartzler Named UNDER 40 Award Recipient
2018 UNDER 40 Award Recipient
Melody Hartzler, R.Ph., PharmD, BCACP
The Ohio Pharmacists Association (OPA) announced that Melody Hartzler, R.Ph., PharmD, BCACP of Beavercreek, Ohio was honored as a distinguished UNDER 40 award recipient for professional achievements and vision in the practice of pharmacy at its 140th Annual Conference held April 20-22, 2018 in Columbus. This award recognizes the professional achievements of young pharmacists, and advances them in the ranks of top-notch professionals from a variety of careers who have earned UNDER 40 recognition.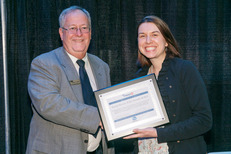 Melody Hartzler is a practitioner who has established an innovative collaborative practice and has generated income for her value. She is an articulate speaker, leader, educator and practitioner. She assisted the start-up of new school of pharmacy, a new pharmacy practice, a new company and educates students in a very effective manner. For a young professional, she has accomplished a lot.
Melody earned her Doctor of Pharmacy degree at Ohio Northern University. She is board certified in Advanced Diabetes Management, Ambulatory Care, and as an Asthma Educator. She assisted the start-up of Cedarville University School of Pharmacy where she is currently an Associate Professor of Pharmacy Practice. She also serves as a clinical pharmacist for Western Medicine Family Physicians where she has instituted many innovative pharmacy services. She works with other primacy care providers to manage chronic conditions such as diabetes, asthma, and COPD, as well as provides holistic care through integrative medicine consults. She has also started her own business, www.PharmToTable.Life which is focused on education related to healing from chronic conditions by addressing the root cause.
Melody serves on the OPA Board of Trustees representing District 5, and is a member of the Medication Therapy Management (MTM) Committee. She previously served as member of Legal & Regulatory Affairs Committee and on the Disease State Management Task Force. Melody is an active member of the Ohio Society of Health-System Pharmacists, American Society of Health-System Pharmacists, and the American College of Clinical Pharmacy (ACCP). She is also a member of the American Association of Diabetes Educators, American Association of Colleges of Pharmacy and the Dayton Area Society of Health-System Pharmacists. Melody has spoken at OPA Annual Conferences and Midyear Meetings. She is an American Heart Association Basic Life Support certification Instructor and has been certified by the American Heart Association in Advanced Cardiac Life Support. She has an ACCP Teaching and Learning Certificate, a ACCP Research and Scholarship Certificate, The Ohio State University College of Pharmacy Teaching Certificate, an APhA Pharmacy-Based Immunization Delivery Certificate, an APhA Delivering Medication Therapy Management Services in the Community Certificate, and has completed the Ohio Pharmacist Foundation Immunization Program. She has been recognized in the ASHP Section of Ambulatory Care Practitioners Member Spotlight.
Melody's response when asked Why do you belong to OPA? To push the pharmacy profession forward. We have had great strides with recent legislation such as the consult agreement law and moving ahead with provider status. I'm thankful OPA seeks member input on these issues and wants to expand the role of the pharmacist.
Kroger Pharmacy has exclusively sponsored the OPA UNDER 40 Recognition Program.