Brigid Groves is UNDER 40 Award Recipient
2018 UNDER 40 Award Recipient
Brigid Groves, R.Ph., PharmD, M.S
The Ohio Pharmacists Association (OPA) announced that Brigid Groves, R.Ph., PharmD, MS of Dublin, Ohio was honored as a distinguished UNDER 40 award recipient for professional achievements and vision in the practice of pharmacy at its 140th Annual Conference held April 20-22, 2018 in Columbus. This award recognizes the professional achievements of young pharmacists, and advances them in the ranks of top-notch professionals from a variety of careers who have earned UNDER 40 recognition.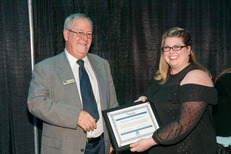 Brigid is a dedicated and passionate leader for the profession of pharmacy. This is apparent through her active engagement and leadership in the Ohio Pharmacists Association, as well as national pharmacy organizations. Brigid's deep commitment to developing pharmacists, residents and students allows our profession to continue to advance.
Brigid is Pharmacy Practice Coordinator for The Kroger Company and Kroger Patient Care Center, and is the Residency Program Director for PGY1/PGY2/MS Community Pharmacy Practice at The Ohio State University (OSU). She earned a Doctor of Pharmacy degree and Masters of Science in Pharmaceutical Sciences at the OSU College of Pharmacy, where she completed a two-year community pharmacy practice and administrative specialty practice residency
Brigid served as 2017-2018 OPA Vice President after serving as District 9 Trustee for the OPA Board of Trustees. In 2018, she was installed OPA President-Elect and has been a member of the Medication Therapy Management Committee. In addition, she took a leadership role in establishing OPA's New Practitioner Experience group (NPX). She has served as the Appointed Member-at-Large of the American Pharmacists Association (APhA) New Practitioner Advisory Committee and served as a New Practitioner Mentor for the APhA student chapter at the OSU College of Pharmacy. She served as an APhA Abstract and Poster Reviewer (primary & remediation submissions) and has attended Annual Meetings and Expositions. She was appointed as a Committee Member for the APhA House of Delegates: Policy Review Committee, Co-Chairperson of the Transition of Care Significant Interest Group Webinar Committee, and member of the Academy of Pharmacy Practice and Management. She was appointed as Chairperson of the New Practitioner Network Awards Standing Committee and appointed as Committee Member of the New Practitioner Network Membership & Involvement Standing Committee. She has also served on the APhA House of Delegates: New Business Review Committee, and is Immediate Past Chair, Chairperson, and Vice-Chairperson of the APhA Section Advisory Group on Ambulatory Care Medication Management for the American Society of Health-System Pharmacists (ASHP). For OSU College of Pharmacy, she has served as the Alumni Society Board of Trustees Member At-Large since 2012
Brigid's response when asked Why do you belong to OPA? "I am an OPA member because I believe that OPA truly protects us as pharmacists and promotes the profession of pharmacy. Without the unending efforts of OPA staff and members, the profession of pharmacy would not be as advanced in Ohio as it is. Ohio is consistently recognized as a leader in patient care among pharmacists in other states, and I believe it is due in large part to our ability to practice fully through OPA's advocacy and education efforts. I am a member because I want to support the association that supports me as a pharmacist. Additionally, OPA offers unparalleled networking and educational opportunities through the variety of committees and regular meetings it hosts. As a member, I certainly benefit from career growth and development through the meetings and learning sessions. I regularly encourage others to join OPA as the benefits far exceed the dues cost."
Kroger Pharmacy has exclusively sponsored the OPA UNDER 40 Recognition Program.