Lindsey Peters is Recognized for UNDER 40 Award
2018 UNDER 40 Award Recipient
Lindsey Peters, R.Ph., PharmD, BCPS
The Ohio Pharmacists Association (OPA) announced today that Lindsey Peters, R.Ph., PharmD, BCPS of Ada, Ohio was honored as a distinguished UNDER 40 award recipient for professional achievements and vision in the practice of pharmacy at its 140th Annual Conference held April 20-22, 2018 in Columbus. This award recognizes the professional achievements of young pharmacists, and advances them in the ranks of top-notch professionals from a variety of careers who have earned UNDER 40 recognition.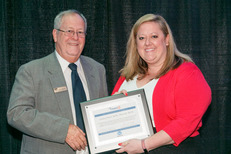 Lindsey has been an invaluable resource to the Ohio Northern University (ONU) campus community. She has a passion for teaching and her students, and consistently goes above and beyond. Specifically her efforts in mental health outreach are especially impressive. Lindsey assisted a group of students in founding a chapter of the College of Psychiatric and Neurologic Pharmacists at ONU. Through the efforts of this group, students are able to become more informed and involved in mental health issues on and off ONU's campus. They have had events such as guest speakers from suicide prevention hotlines, and a suicide prevention walk. In addition to her work with mental health efforts on campus, Lindsey also follows this passion at her practice site at St. Rita's Hospital in Lima, OH, where she holds group classes for inpatients with psychiatric disorders
Lindsey is Assistant Professor of Pharmacy Practice at Ohio Northern University and practices at St. Rita's Hospital in Lima, OH. She earned her Doctor of Pharmacy degree at The University of Cincinnati. She was selected to attend an OPA Young Pharmacy Leadership Conference. She attends and has been a speaker at OPA Annual Conferences. In addition, she has authored continuing education articles for the award-winning monthly journal, the Ohio Pharmacist. She attends annual meetings of the Ohio Society of Health-System Pharmacists (OSHP) and American Society of Health-System Pharmacists (ASHP). She is president of the West Central Ohio Society of Health-System Pharmacists. As a College of Psychiatric and Neurologic Pharmacists (CPNP) member, Lindsey is the Student Chapter Advisor. She has presented posters at CPNP Annual Meetings.
Lindsey's response when asked Why do you belong to OPA? "I originally joined OPA at the suggestion of a co-worker and have found that there are many reasons to remain an active member! One of my favorite things about OPA is the annual conference that occurs each spring. I enjoy meeting and reconnecting with different pharmacists from various practice settings all over Ohio. At the meeting, it is an inspiring and uplifting feeling to know that all attendees, whether you know them personally or not, share one common goal: to improve our profession. Within the stated purpose of the organization, you will find OPA exists, ... to foster the education of those learning the art and thereby stimulate the talent of those engaged in pharmacy. I believe that the purpose created in 1879 by the Ohio State Pharmaceutical Association holds true today! So, how do I fit into that vision and why am I committed to OPA? As a pharmacy educator, it is my daily goal to teach others about the art of pharmacy and inspire the minds of our future leaders. I believe it is also important to continue my own personal and professional growth so that I can provide the best possible care to the patients I work with. OPA provides a platform where I can share information I have learned and where I may continually learn from some of our profession's best mentors. There are many great resources available to foster learning including the annual meeting, the monthly journal, and more frequent email updates. Apart from the actual content within these excellent resources, they also provide a sense of unity within the profession. OPA encourages its members to advocate, to act and to promote public health efforts through education, discussion, and legislation - the ultimate mission of OPA. OPA allows me to contribute to the ongoing education of Ohio pharmacists, to gain knowledge from other Ohio pharmacists and mentors, and to provide the best, evidence-based, up-to-date care for my patients."
Kroger Pharmacy has exclusively sponsored the OPA UNDER 40 Recognition Program.