Lauren Castle Recognized as UNDER 40 Award Recipient
2022 UNDER 40 Award Recipient
Lauren Castle, R.Ph., PharmD, MS
The Ohio Pharmacists Association (OPA) announced that Lauren Castle, PharmD, MS of Dayton, Ohio, is a 2022 recipient of an UNDER 40 Award in recognition of her leadership, excellence, and vision in the practice of pharmacy. This award was presented at the OPA 144th Annual Conference held April 1-3.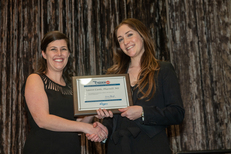 A graduate of Ohio Northern University, Castle is the Founder and CEO of the Functional Medicine Pharmacists Alliance. She works to transform the pharmacy profession by integrating the practice of functional medicine and pharmacy and empowering pharmacists to create their ideal practice. She also works as a Divisional Community and Influencer Platform Manager with Brand Networks, powering Walmart's Local Social Media and Spotlight digital applications. She is a past recipient of OPA's Distinguished Young Pharmacist Award.
"We are pleased to recognize Lauren Castle who has exemplified leadership, excellence, and vision in her practice. She has been a valued member of the Association, and we look forward to her future contributions to the profession of pharmacy," said Ernest Boyd, OPA Executive Director.
OPA, established in 1879, represents more than 4,000 pharmacists, pharmacy educators, and pharmacy students throughout the state. It is OPA's mission to unite the profession of pharmacy and encourage interprofessional relations, while promoting public health through education, discussion, and legislation.
We thank Kroger Health for exclusively sponsoring the 2022 OPA UNDER 40 Recognition Program.