03/21/2021
Member Spotlight: Abdulgafoor Bachani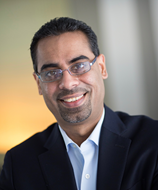 Abdulgafoor M. Bachani, PhD MHS
Associate Professor, International Health
Director, Johns Hopkins International Injury Research Unit
Health Systems Program, Department of International Health|
Johns Hopkins University Bloomberg School of Public Health
Tell us about your areas of interest within injury and violence prevention. Why did you decide to pursue a career in this field?
My interests focus on health systems, as well as developing and implementing innovative approaches to measuring the burden of and preventing injury and disabilities.
I hold a particular interest in developing approaches for: 1) the measurement of disability and understanding the long-term health, economic, and societal consequences of injuries; 2) enhancing the generation and use of valid and reliable data for injury prevention in low-resource settings; 3) applying novel information and communication technology approaches to injury prevention and disability; and, 4) developing sustainable capacity for research and practice in the field of injury prevention.
A lot of my work focuses on consequences of injuries to really understand what happens to people who survive injuries, and how can we make sure they have the best opportunities to recover and become fully participating members of the society again. The main reason I became interested in this is that more often than not, the traditional focus has been on looking at mortality and, in the process, we forget that while that is important, it is just the tip of the iceberg; the most significant burden of injuries is due to the long-lasting health, economic, and societal consequences of non-fatal injuries.
How long have you been a member of SAVIR? What has been your favorite part about being involved with SAVIR?
My team and I at the Johns Hopkins International Injury Research Unit are relatively new to SAVIR, with membership from our team starting as early as 2015, but since joining it's been fantastic to work with more injury and violence prevention practitioners here in the United States.
Working in more than 30 low- and middle-income countries, I've been so fortunate to frequently collaborate with passionate international researchers, but the affiliation with the Johns Hopkins Bloomberg School of Public Health and membership to SAVIR helps build relationships on a domestic level, as well. Interacting with and learning from the experiences of fellow SAVIR members has been quite rewarding.
What has been the most rewarding aspect of your career so far?
I am humbled to have been presented with opportunities to make meaningful contributions to the field of health systems, particularly injury prevention and disabilities globally.
Working in the international arena, we are faced with unique contextual issues that can make our work challenging, but also provide opportunities to innovate and directly benefit people. Capacity building to sustain initiatives that we work on in lower resourced settings has formed the cornerstone of my approach. Two of the main issues that individuals in LMICs face in terms of training are availability and access, whether geographic, financial, or other. To address this, working with colleagues I have successfully led the development of free online training programs, structured capacity development programs, as well as embedded capacity building into all my projects through a learning-by-doing approach.
The result, which has been the most rewarding aspect of my career thus far, is seeing mentees and junior colleagues develop to be independent researchers, and practitioners who are now spearheading amazing work.
What do you like to do in your free time?
My favorite thing to do in my free time is to be with my family, especially my 4-year-old son. We love being outdoors, reading, visiting new places, and meeting people (which unfortunately the COVID-19 pandemic has put a damper on!).
I enjoy playing golf and look forward to get my son into it as well!