Complete Story

Federal Reserve Supports and Approves NACHA's Same Day ACH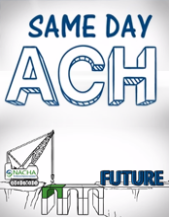 HERNDON, Va., September 23, 2015 –NACHA – The Electronic Payments Association® commends the Federal Reserve on its commitment to Same Day ACH. The Federal Reserve's support of NACHA's Same Day ACH Rule will ensure a ubiquitous same-day capability for virtually any ACH transaction.
"With the Federal Reserve's support of the NACHA rule, the industry's commitment to modernizing the payments system and enabling a ubiquitous faster payment option can be fully realized," said Janet O. Estep, president and CEO of NACHA. "Same Day ACH is a game changer as it will enable new options for consumers, businesses and government entities that want to move money faster, and will serve as a building block for enabling payments innovation in the development of new products and services."
In May, the Same Day ACH Rule was approved. The new rule builds upon existing, next-day ACH Network capabilities by establishing two new same-day settlement windows. The rule also requires that all Receiving Depository Financial Institutions (RDFIs) receive same day transactions and provide faster funds availability to customers. Additionally, the rule establishes the methodology for a Same Day Entry fee as a mechanism for RDFIs to recover some of their costs for enabling and supporting mandatory receipt of same-day ACH transactions.
The rule will be implemented in three phases. In Phase 1, ACH credit transactions will be eligible for same day processing, supporting use cases such as hourly payroll, person-to-person (P2P) payments and same-day bill pay. In Phase 2, same-day ACH debits will be added, allowing for a wide variety of consumer bill payment use cases like utility, mortgage, loan and credit card payments. Phase 3 introduces faster ACH credit funds availability requirements for RDFIs; funds from Same Day ACH credit transactions will need to be available to customers by 5 p.m. RDFI local time. Phase 1 will become effective September 23, 2016.
For more information about Same Day ACH, visit www.nacha.org/same-day-ach.
---