WF&FSA STORE
WF&FSA is a proud member of the National Association of Wholesaler-Distributors (NAW). NAW, through its NAW Institute for Distribution Excellence, publishes a wide variety of publications, all designed to aid the distribution management team. You may view the full array of titles and select the publications that meet your needs at www.naw.org. As a member of WF&FSA, you receive a discount on all purchases.
Management - Human Resources General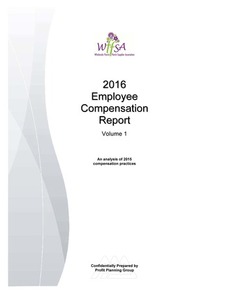 Volume I & II: Cross Industry Data
Volume 1: Includes an executive compensation overview; summary of executive compensation, summary of employee compensation; detailed statistics on executive compensation; employee compensation, (outside sales staff, inside sales staff, and employee benefits.) Based on responses from WF&FSA members only.
Volume 2: This report takes advantage of the large sample of 2,000 firms, representing 7,500 locations from 36 participating distributor trade associations. Provides breakouts for 18 different sales volume categories, and over 100 specific geographic areas. Published every other year.
2018 WFFSA Operating Ratio Report
This report presents a detailed but straightforward analysis of financial and operating characteristics of participating WF&FSA firms. Results are presented in tables and graphs designed to provide a comprehensive guide for analyzing profitability. It is organized into the following sections.
Executive Summary - An overview of study results including a graphical presentation of key results.
Detailed Results - An analysis of return on investment and financial and productivity ratios.
Regions - Geographic regions are examined. Participants were grouped according to regions specified by WF&FSA.
Trends - An examination of changes in performance over time for key results and ratios.
Ratio Calculation - A summary of ratio calculations.
Management - General Distribution Topics
Sales Training