Sponsors and Exhibitors
21st Annual Arizona Self-Storage Conference
September 25-26, 2019

AZSA's conference is designed for you, our vendor members. The conference annually attracts 500 participants, including 200 owner/operators, 100 managers, 100 vendors in 50 exhibits (2 exhibit personnel each), and 100 golfers. We give you the best exposure and visibility possible. Your suggestions for improvement are incorporated into this year's design, making the floor plan and agenda even better. As in years past, everything will take place in the same place: the beautiful Showroom of the Wild Horse Pass Hotel & Casino in Chandler, Arizona.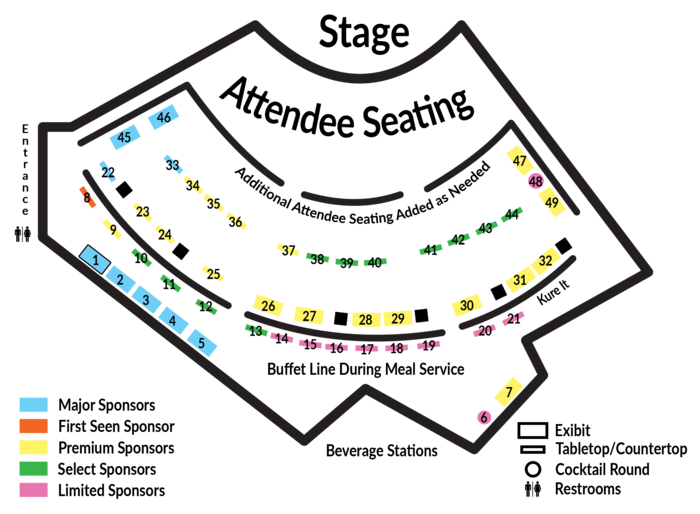 New this year:
Our interactive floor plan will serve as a virtual trade show all year long. After you purchase an Exhibiting Sponsorship, we will collect inputs to populate your "space" on the virtual trade show floor to give you even more visibility with self-storage owner/operators throughout the year. Click below for an example based on last year's Exhibiting Sponsors.
Other features:
Everything takes place in the Showroom of the Wild Horse Pass Hotel & Casino, Chandler, Arizona. There is NO separate trade show floor.
Exhibit space is only available with sponsorship and includes 2 exhibit personnel,.

Exhibits will be accessible to attendees all day both days

, not just during dedicated exhibit time, with dedicated exhibit time both days.
Exhibit space is designed to afford participants the best visibility possible, so that:

Sponsors and their exhibits are visible and visited all day both days as attendees enter, exit, take breaks, get snacks, get and eat meals, etc.;
The stage is visible to attendees AND sponsors from their exhibits (except Limited Sponsors), enabling all involved to benefit from presentations and training.
Offering everything in the same space means there will be fewer exhibiting sponsors, which will improve the ratio of owner/operators to vendors. It also means everything will be tighter, so specifications for each sponsorship and exhibit type apply (see details below).
Vendors who want to attend instead of sponsoring the conference or golf tournament will be subject to surcharge pricing in order to protect the benefits we are offering our exhibiting sponsors. This rate will be higher than sponsorship rates. We highly suggest that vendors plan to sponsor, not attend. Non-sponsor vendors WILL NOT be allowed to distribute marketing materials or use the meeting space designated for sponsors to meet with clients.
Last year's refundable deposit was effective to encourage exhibitors to pack up at the designated time (4:15 - 6 pm, at the end of the second day, September 26, 2019). We will require it again this year. Those who adhere to the guidelines will receive their deposit back or will have the option to apply it to pay 2020 dues in full, with a $45 discount.
Download the offering package with complete details here:
Agenda

(Subject to change as the conference planning progresses)

Golf – Tuesday, September 24

11:00-7:30pm
Tournament (1 pm Shotgun Start)
5:30-7:30pm
Opening Reception & Golf Awards
7am-9pm
Exhibit set up

Owners Summit – Wednesday, September 25

6-8:30am
Exhibit set up
9am-4:30pm
Presentations with lunch at noon; exhibits available to attendees throughout the day
(time TBD)
Dedicated exhibit time (at least 1 hour)
4:30-6:30pm
Dedicated exhibit time during reception throughout the Showroom; VIPs invited

Operational Symposium – Thursday, September 26

8am-4:15pm
Presentations; exhibits available to attendees throughout the day
(time TBD)
Dedicated exhibit time (at least 1 hour)
4:15-6pm
Exhibit breakdown
Exhibiting Sponsorship Levels
Title Sponsor: $5,000 @ Space #1 - Deans & Homer - SOLD
Promotional / Major Sponsor: $5,000 @ Space #45 - Mini Storage Messenger / MiniCo - SOLD
Major Sponsors: $3,500 @ the best exhibit locations, blue on floor plan - Right of first refusal until Feb. 15, 2019. Please contact us to confirm or be placed on a waiting list for these opportunities. Major Sponsors are included in all conference promo and have on-stage introductions both days.
Space 2 - Chateau Products - SOLD
Space 4 - Broken Arrow Roofing
Space 22 - StoragePRO - SOLD
Space 33 - Sun Valley Solar - SOLD
Space 46 - U-Haul Self Storage Affiliate Network - SOLD
First Seen Sponsor: $2,500 @ Space #8
Premium Sponsors: $1,500 @ choice of yellow spaces - 2 remaining
Select Sponsors: $1,000 @ choice of green spaces - SOLD
Limited Sponsors: $500 @ choice of pink spaces - SOLD
There are 3 different types of exhibit space: Exhibits, Table Tops, and Counter Tops. Each has its own specifications.
All specifications are detailed in the Exhibiting Sponsorship Package, available for download soon.