Complete Story

09/10/2018
Randy Todorovich Receives Richard LeBlanc Award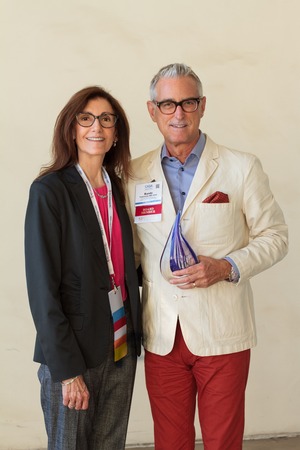 CASA President Deb Miller and Randy Todorovich
The Richard LeBlanc award, originally called the President's award, was established early in the history of CASA. This President's award was adopted to honor a CASA member who has given tirelessly to the organization, frequently going above the call of duty in volunteering for CASA. The award is not necessarily given to those who have served on the board and is not given each year but at the nomination and choosing of the CASA President.
In 2003, the name of the President's award was changed to the Richard LeBlanc award. Richard exemplified every quality that the President's award embraces. He served not only in the position of CASA treasurer, but actively served on the conference committee each year. Richard truly embraced CASA and its members. Richard saw to it that no job was left undone.
In the almost 30-year history of CASA, this award has been given out 11 times. At this year's 2018 CASA Conference, CASA President Deborah Miller acknowledged long-serving CASA Volunteer and current Board Member Randy Todorovich with the well-deserved honor of the Richard LeBlanc award.
Often some of our greatest leaders are a bit quieter or in the background. Randy Todorovich has served CASA for many years now both on the Board and off. Even though he wasn't serving as a Board Member he took an active leadership role for 6 years by volunteering and giving countless hours to the development of the ASC and payor relationship.
The ASC industry owes many of the strides it's made forward to his efforts. Randy continues this day to be one of the most active CASA Board members, continually pushing the CASA strategic agenda forward.
Randy has not only been instrumental in developing payor relationships but is now working towards engaging the large employer community to discuss benefit design and the advantage of utilizing the ASC model. At times these conversations have been difficult, but Randy remains the consummate gentleman and his character and mild demeanor are a credit to his success.
The CASA Board and its members are indebted to the outstanding service of Randy Todorovich to CASA and its members. Congratulations Randy!!
---