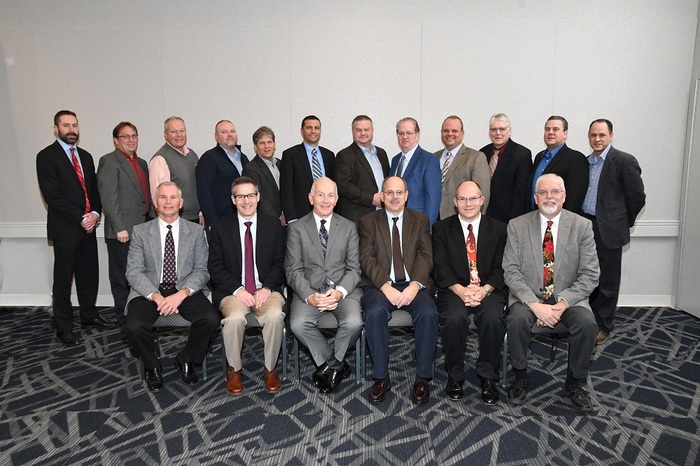 Columbus, Ohio – The County Engineers Association of Ohio (CEAO) presented state recognition awards to Ohio County Engineers and their staff during its annual business meeting December 9-11, 2018.
Chris Bauserman, P.E., P.S., Delaware County Engineer received the award of 2018 County Engineer of the Year. Todd Bumgardner, Administrative Coordinator with the Logan County Engineer's Office received the award of Employee of the Year from CEAO. Gary Smith with Clinton County was presented with the CEAO David Brand Safety award.
The incoming 2019 CEAO Officers are President Jeffrey B. Linkous, Clinton County Engineer; 1st Vice President Jeff Stauch, Union County Engineer; 2nd Vice President Frederick T. Wachtel, Coshocton County Engineer; Treasurer James A. Wiechart, Mercer County Engineer; and Immediate Past President Paul W. Gruner, Montgomery County Engineer.
view all
Latest News
12/21/2018
Delaware County — Delaware County Engineer Chris Bauserman, P.E., P.S., and staff received the 2018 County Engineer of the Year award from the County Engineers Association of Ohio (CEAO) during its annual business meeting held Dec. 9-11.
---
11/01/2018
Guernsey County — Based on the results of a grant-funded safety study, new traffic signage has been posted at two intersections in Guernsey County — Ohio Avenue and Corduroy Road, and North Eighth Street Road and Lemon Hill Road.
---
11/01/2018
CINCINNATI -- The state of the region's roads, bridges and public transit sits at the front of Hamilton County voters' minds as the 2018 midterm elections approach, with more than one high-profile race hanging in the balance.
---
10/22/2018
Washington County - Washington County Engineer Roger Wright said rot has set in on the structural members holding the bridge up. Work to repair it will be complex and require craftsmen with specialized skills, he said.
A month ago, he said, a grant application to the federal government was approved, and the work will probably be scheduled in the 2020 fiscal year.
"We were able to get rather good funding," he said. The federal government through two programs will pay 95 percent of the cost, which Wright estimated to be between $700,000 and $750,000.
---
10/10/2018
Portage County - Last winter may not have seemed particularly harsh to the average Ohio motorist.
But the high number of small "snow events," each requiring salt, plus the high number of days when temperatures fell below freezing and rose above freezing in a single day, took a toll on salt supplies, as well as the condition of pavement.
view all news