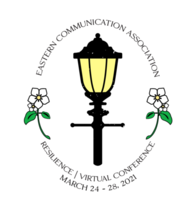 Conference Planning in Uncertain Times
ECA 2021 | February 27 Conference Update

A Fully Virtual Event
Wednesday, March 24 - Sunday, March 28, 2021
Resilience
Dear ECA Community:
We are pleased to announce that ECA 2021 registration is now open. You can access registration here:
https://associationdatabase.com/aws/ECA/pt/sp/convention_registration
and our preliminary conference schedule here:
https://associationdatabase.com/aws/ECA/pt/sp/convention_program
You will notice reduced registration fees this year as well as research methods workshops and short courses offered at no cost to attendees. We'll also be hosting fireside chats in the evenings as a way to gather, share ideas, and learn from prominent thinkers in our discipline.
As we planned this year's conference activities, the work of crisis communication scholars Matthew W. Seeger and Timothy L. Sellnow offered hope amid the uncertainty. In particular, their notion that crisis "creates new identities or adds to existing ones" served as a foundation for preserving the ethos of our in-person conventions while at the same time exploring new features available in the virtual format. The conference schedule includes traditional conference programming, including panels, paper sessions, roundtables, debates, interest group meetings, and our ECA General Business Meeting. In addition, we'll celebrate our students, programs, and colleagues with awards ceremonies and our graduate programs showcase. The digital presence of our sponsors, advertisers, and exhibitors creates opportunities for engagement and participation in a virtual trade show booth.
When our virtual site is launched, you will receive an invitation email with log-in instructions. Around this same time, we'll begin offering tutorials and "Office Hours with the Planner" to become more familiar with the platform. In the meantime, here is a brief introduction: https://support.pathable.com/hc/en-us/articles/360055409651-Introduction-Start-Here
The 112th convention will be unlike any convention in our Association's history. Thank you for your resilience and continued support as we make our way towards March 24th.
Amanda
Amanda G. McKendree, Ph.D.
First Vice President/Primary Convention Planner
amckendree@nd.edu
view all news
News & Notes
02/24/2021
ECA Officers encourage submissions to these awards by the extended deadline of March 15, 2021!
10/13/2020
Dr. Gerald Lee Ratliff, age 75, of Rock Island, Tennessee passed away on January 14, 2020 at his home. Gerald was born in Middletown, Ohio on October 23, 1944.
view all events
ECA Calendar
←
March 2021
→
S
M
T
W
T
F
S
1
2
3
4
5
6
7
8
9
10
11
12
13
14
15
16
17
18
19
20
21
22
23
24
25
26
27
28
29
30
31
April 27 - May 1, 2022
Hyatt Regency Buffalo Hotel and Conference Center
Buffalo, NY