03/01/2019
Create More Engaging Name Tags
Eight tips to connect your attendees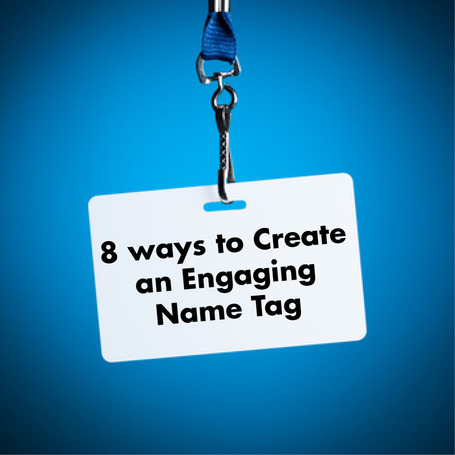 Name tags are a key element to any successful event. They help break the ice for attendees and make the networking process easy.
"You're from Columbus? Me too!"
Two people can quickly find a commonality and start talking.
Event planners are any event's biggest critic, and too many times I've attended an event with less than sufficient name badges. Here are a few ways to make the name tags at your next gathering work for you and your attendees:
An easy-to-read font - Arial, Times New Roman or other simple font is best.


Large font for the first name - I recommend at least 24-point font size for the first name. Attendees should be able to read the first name from several feet away.


Full name on the line below - The attendee's full name should go on the line below, in a slightly smaller font, but still large enough to read from a distance.


Include title and company - Many suppliers looking to do business with potential clients need to know which attendees are the decision-makers. It also helps attendees in similar positions at different companies or branches connect with each other.


Different colored paper to identify attendee categories - Many associations or conferences have several categories of attendees - vendors, exhibitors, affiliates, etc. Using different colored name tag paper is an easy and inexpensive way to help conference-goers quickly find those they are looking for from a distance. Another option is to use different colored name badge holders like these.


Horizontal Ribbons - Need to recognize sponsors, speakers, board members, or other VIP guests? Horizontal ribbons save space on the name tag and make an attendee feel less like they just won a prize at the state fair than their vertical counterparts.


Assigned seat on the back of badge - Does your luncheon or dinner have assigned seating? By placing a label on the back side of the name tag paper, it allows the attendee to quickly remember their seat assignment and prevents your event staff from telling guests their table number over and over. Labels can be created in a merge file and imported from an Excel spreadsheet of seat assignments.


Transport badges easily and inexpensively - OneWay Nametag cases are lightweight, clear plastic cases that hold 50 tags per case. They can be shipped and reused over and over (despite their name, they last for years). *
Resources:
Marco Promotions - affordable nametag paper, badges and ribbons.
PC/Nametag - Unique meeting supplies, including the OneWay Name tag cases, ribbons, and other meeting supplies.
*I receive no compensation from Marco or PC/Nametag - I just think they offer great products.
Have a name tag tip? Comments? Share your ideas!