01/08/2020
Eight Tips for Conference Attendees
Maximize your experience while on the show floor
Maximize your experience while on the show floor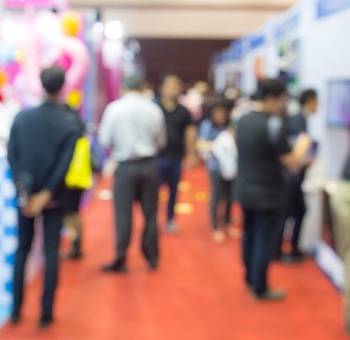 Planners pack a lot of content into the one or two days they have you on-site. A full schedule can leave you exhausted and ready to head back to the office so you can rest! The following suggestions are gathered from my years of managing and attending conferences:
Footwear - Be sure to wear comfortable shoes; this is not a fashion show! Convention centers are huge and you'll spend a lot of time on your feet. Even changing shoes halfway through the day can refresh your feet and lessen pain and blisters. And while we're on the topic of feet, be sure to trim your toenails before you leave. This may be considered TMI but you'll really appreciate this tip after a 12-hour day on your feet!


Stay hydrated - You'll be doing a lot of talking while you network with colleagues and visit with exhibitors. Consider carrying a bottle of water with you and take advantage of refreshment breaks. You'll prevent headaches and stay refreshed throughout the day.

Take PLENTY of business cards - You're attending to connect with business contacts and meet new people, right? Be sure to have your business cards with you. No pockets? Keep a stash of cards behind your name tag (along with your room key) in your badge holder and refresh that supply from a larger supply stored in your bag.


Pack food - The receptions and dinners at conferences may offer great food, but when you're on your feet and talking with folks, it's hard to eat enough for a complete meal, especially if alcohol is involved. Too often I've found myself tired, starving and staring at a room service menu at the end of a long day. By packing healthy snacks in your luggage - granola bars, dried fruit, crackers, etc., you'll have good food choices and can resist ordering the burger and fries at midnight.


Extra clothes - Always pack at least one more change of clothes than you think you'll need. You never know when you might have a glass of red wine spilled on you or you drop a bite of your dinner on your lap. An extra set of clothes can be a life-saver. And while you're packing, consider taking clothes with pockets - for stashing other people's business cards, a pen, etc., especially if you're staffing the event. And remember, it's always cold in convention centers and hotels, so bring layers.


Bring your own tote - When you're among the other 3,000 attendees, how do you know which bag is yours? Bring your own bag and you'll easily find it after you finish a breakout session. Plus, when you're out on the street heading back to the hotel, you don't scream "tourist". (Another safety tip: remove your nametag as you leave the convention center.)


Travel light on site - Unload your purse of all but the essentials for while you're at the conference. You don't need all the rewards cards, library cards, etc., that you use at home. After you get your conference tote, stash everything but the program agenda and other essential meeting materials in your hotel room. Those extra pieces of paper tend to get heavier as the day goes on. If the conference offers it, use your smartphone or tablet for all the materials, lightening your load even more.


Step out of your comfort zone - Don't know anyone? Neither do most of the other people there. To truly have a worthwhile experience, you need to shed your tough exterior and reach out and connect with others. The elevator at the hotel is a great way to break the ice with fellow attendees. I once met the college roommate of a family friend while in the hotel elevator in Canada! You never know who you'll meet if you're not afraid to say hello. Or, if you are a long-time attendee, reach out to the newbies and introduce them to your friends and colleagues.
What are your best tips for a great conference experience?