03/05/2021
Virtual Event Etiquette
14 tips to avoid becoming an internet sensation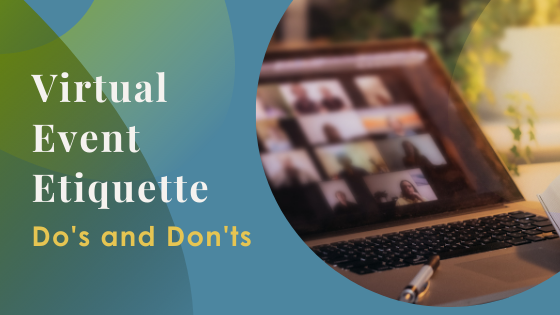 Let's face it, we've all been part of at least one or two virtual meetings in the last year and seen what can happen with funny clips from the cat lawyer and the guy in his work meeting with no pants.
I've been using Zoom since early 2019 and lead about 10 Zoom meetings every week. If you're looking for insider expertise around virtual meetings, you're in the right place! No more learning the hard way—who has time for that?!

With that in mind, here are 14 tips to consider before your next virtual meeting!
DO -


Mute yourself unless it's your turn to talk.



Make sure your computer or tablet is on a flat surface and keep your camera steady.

Find a quiet location to take your meeting

(we know this one is tough, parents!) I once had a presenter trying to share remarks from a loud work environment with beeping, intercoms, and co-workers chatting right beside him. Fact is, no one could focus on what he was saying.
Keep the camera on

whenever possible.
DON'T


Please don't eat on screen.

Enough said.
Don't move your computer

while your camera is on.
Virtual meetings are here to stay for the foreseeable future, so it makes sense to get comfortable with this medium. You and your work deserve to shine!
Need help managing your virtual meetings?
Contact Sheila at sfox@eventinsite.com or tell us how we can help.