07/26/2022
10 Free Tools to Transform Your Business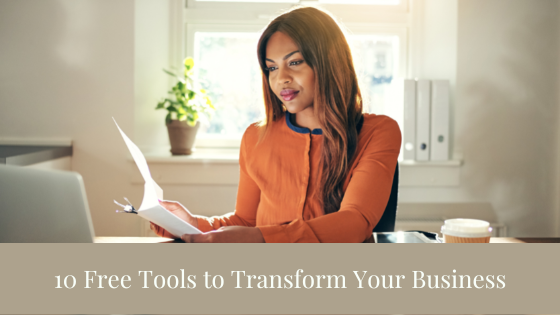 Looking to uplevel your everyday? It doesn't get better than free—especially when we're talking about savvy tools to benefit your business. After 15 years leading Event in Site, count on me to share what really works:
This graphic design app offers a vast library of templates for just about any kind of social media post, print, or virtual document you might need. Beyond creating infographics and certificates, I've also found it useful for photo editing and designing polished event programs. There is also a paid Pro version for full access to their suite of graphics.
Need stylish stock photos for your website or social posts? This site features endless royalty-free images and a comprehensive search function. Plus, you can sort by photo orientation (landscape vs. portrait) and type of image (illustration, photo, vector graphic, etc.) to find what you're looking for quickly and easily. Like Canva, Pixabay also offers a Pro version worth investing in if you regularly design social media posts or graphic content.
Just kicking off your business or side hustle? Try Wave—the free accounting software that's intuitive to use. It's always a good practice to keep your personal and business expenses separate and Wave is a smart way to start.
Think Mailchimp is only for email and newsletters? Think again! You can also create landing pages, sign-up forms, marketing funnels, and SO much more. Take advantage of a styled template or design your own. The free version is available for those with 1,000 contacts or less.
Project planning can be complex, but keeping track of the details doesn't have to be. Asana is an awesome project planning tool, especially if you're managing multiple projects or collaborating with others. You can communicate right in the app, set milestones, and share action items. No need to search through 99 email threads to find the status update you're looking for!
If you own a business, you need a website. If you're just starting out and not looking for all the bells and whistles, Wix offers an intuitive way to develop an engaging virtual home for you and your brand.
Quickly scan docs on the fly! ScannerPro lets you do it all from your iPhone or Android. Pretty cool, right? No need for bulky office equipment—use this app to easily scan documents to the cloud, access them on your computer, and send as an attachment to clients or vendors.
The ultimate free resource, Google Drive keeps my business organized with a variety of convenient tools. From securing meeting notes in Google Docs to sharing Google Sheets for event timelines and outlining budgets, there isn't much you can't do with this go-to suite of online tools. Google Forms even allow you to build a registration form or survey. When working with others, be sure to check the sharing settings to ensure proper access. For example, you can choose to share view-only powers or limited editing. Forget never-ending versions of attachments to keep track of. Now you can create ONE GoogleDoc to wrangle links to everything needed for planning a meeting in the calendar invitation, so attendees have all meeting materials in one place.
This credit card processor keeps getting better. Features include appointment scheduling, invoicing, credit card payments, and now they even offer payroll.
Why I love it? Unlike most processors, Square doesn't charge a monthly fee on top of the per-transaction fees. Saving money just feels good.
My new very favorite discovery, Printful makes it fun to secure branded merchandise. Looking for anything with a logo? They do it all from shirts and mugs to stickers. All custom. No minimum quantities. Plus—you can share individual links for each event attendee to each choose their own size and have it shipped directly to them. I recently built an entire fan shop for a client with Printful and Square. The best part? Each order's proceeds directly benefit the non-profit.
What do YOU think?
Share your favorite free tools below! Would love to hear from you.