09/26/2022
Land Your First Speaking Gig
6 ways to get on stage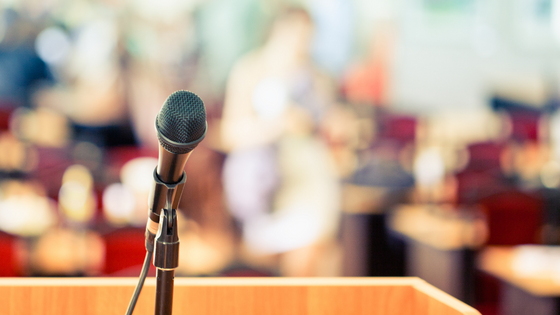 Want to be an in-demand keynote speaker at industry events? Start with a tried-and-true approach:
Do Your Research.

Look up membership and trade associations in your field of expertise. There's an association for

everything

, even

Real-Bearded Santas

! Directly email their professional contact for meetings & events.



Check the Calendar. DO NOT reach out to an organization if their conference is in the next several weeks. The schedule is already set and they'll be frustrated you didn't take the time to know. Set a calendar reminder a few weeks after the upcoming conference and politely request that your topic be considered for their next speaking opportunity. There may also be a call for presentations, so you can request those details too.



Be Prepared. Showcase your goods! Create a brief, bullet-point PDF of topics you're prepared to present and be willing to customize it as needed. Include a photo of yourself along with a testimonial from someone who's heard you speak. Don't forget to include your website or LinkedIn profile and any links to short video clips.



Ask for Introductions. Know someone with a connection to the organization or field? Ask them for a personal introduction to the meeting pro or conference planning chairperson. Planners get a ton of cold calls from speakers who won't be a good fit for their group, so having an "in" goes a long way toward booking the gig.



Give A Little, Get A Lot: Many speakers gain additional consulting clients by first speaking to the industry trade association or membership group. Offering to speak for free or at a reduced rate at a larger event often offers exposure to lucrative clients or future opportunities.


Already landed the gig? Be sure to check out these tips for a successful speaking engagement.
More Info