10/19/2018
International Practices of Career Services, Credentialing and Training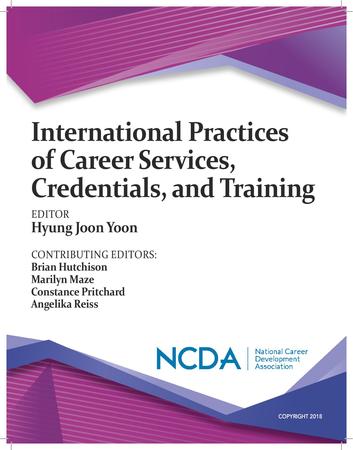 Table of Contents (all chapters updated Oct 2018)

Chapter 1: Introduction
Chapter 2: Qualifications for Australian Career Development Practitioners
Chapter 3: Career Service Provision in Canada: Deep Roots & Diverse Practices

Chapter 4: Career Services and Professionals in Mainland China's Educational Settings

Chapter 5: Status of Career Services and Credentialing in Colombia from 2010 To 2016
Chapter 6: The European Status for Career Service Provider Credentialing: Professionalism in European Union (EU) Guidance Policies

Chapter 7: The State of Career Services and Career Professionals in India
Chapter 8: Career Services and Professionals in Japan
Chapter 9: The Status of Career Development in South Korea: Qualifications for Career Professionals

Chapter 10: The Practice of Career Counseling in Taiwan
Chapter 11: Career Counseling in the United Arab Emirates
Chapter 12: The State of Career Services in Uganda
Chapter 13: History of Career Services Provider Credentialing in the USA
Chapter 14: Syntheses and Future Directions for Career Services, Credentials, and Training


EDITOR

Hyung Joon Yoon

CONTRIBUTING EDITORS:

Brian Hutchison
Marilyn Maze
Constance Pritchard
Angelika Reiss

COPYRIGHT 2018


Hyung Joon Yoon, Ph.D., SPHR, is an Assistant Professor of Workforce Education and Development at the Pennsylvania State University. He also serves the National Career Development Association (NCDA) as Trustee-at-Large. He has trained career practitioners in South Korea, the United States, Morocco, and Canada. He has developed the Human Agency Based Individual Transformation (HABIT) model, and the Assessment of Human Agency (AHA) and co-developed the Hope-Centered Model of Career Development (HCMCD) and Hope-Centered Career Inventory (HCCI). His career development research projects involved diverse populations such as North Korean defectors, unemployed individuals, immigrants, college students, and Syrian refugees in different countries.

Brian Hutchison, Ph.D., LPC is an Associate Professor at New Jersey City University, and was formerly at the University of Missouri – Saint Louis. Dr. Hutchison is the President of the Asia Pacific Career Development Association (APCDA), Treasurer of the National Career Development Association (NCDA), Past President of the Missouri Career Development Association (MoCDA), Editor of the Asia Pacific Career Development Association journal, and Associate Editor of the Journal of Humanistic Counseling. His scholarship can be broadly described as focused within two primary counseling domains,school counseling and career coaching/counseling. These broad themes are infused into three primary scholarship areas: international issues in career/ school counseling, career theory and practice integration, and counselor training/ education broadly defined.

Marilyn Maze, Ph.D., is the Executive Director of the Asia Pacific Career Development Association and a Principal with PsyCoun Consultants. She formerly worked for ACT where she was responsible for the development of the ACT Profile, DISCOVER and other computerized career planning tools. She is the 2016 recipient of NCDA's President's Award and chaired the Organizing Committee for NCDA's credentialing initiative.

Constance Pritchard, EdD, NCDA Fellow and Master Trainer, is the principal and owner of The Pritchard Group, an international organizational development and career management training firm. Constance has also worked in higher education in faculty and managerial roles where programs under her direction (orientation, career services, and advisement) have received national awards. Her dissertation research on small business hiring practices gained national accolades.

Angelika D. Reiss, MBA is the principal owner of StayConnected Careers and has national and international work experience in human resource management, career management, and training and development. She provided employee development services and career coaching to Fortune 500 companies and U.S. government employees working in state, federal, or Native American organizations. Her graduate studies included concentration areas in International Management, Industrial-Organizational Psychology, and Career Development.