EXHIBIT HALL
The NCDA Global Career Development Conference welcomes exhibitors and sponsors from public and private corporations, government agencies, educational institutions, and professional associations who offer career-related products and services such as books, media, computer-based systems, assessment instruments, and online services.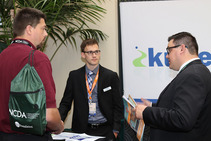 Click here to view the 2019 floor plan.
For more information, contact:
Alicia Cheek
305 N. Beech Circle
Broken Arrow, OK 74012
Phone: (918) 663-7060
Fax: (918) 663-7058
acheek@ncda.org
---
2019 Interactive Floorplan - coming soon!
Our virtual Exhibit Hall will open soon. View the map below for 2018 details about our conference exhibitors.