Details

May 21, 2019
NCSSA Seminar
Peninsula Yacht Club - 8501 Harbor Light Blvd, Cornelius, NC 28031
NCSSA Seminar & Networking Event




Tuesday, May 21, 2019


10 a.m. - 1:30 p.m.

Peninsula Yacht Club
8501 Harbor Light Blvd, Cornelius, NC 28031

Speaker and Topic:
Topic - "Self Storage Domination, The Actions You Must Take To Dominate Your Competition"
Speaker - Matthew Van Horn is a co-founder of 3 Mile Domination Self Storage Services, a full-service management company specializing in self-storage management, marketing, and consulting within the self-storage industry. Matt is co-author of the book Self-Storage Domination, host of the weekly self-storage podcast "3 Mile Domination", and publisher of "Behind the Roll Up Door" a weekly newsletter dedicated to the self-storage industry, the former vice president of Cutting Edge Self Storage Management, and former president of the Florida Self Storage Association.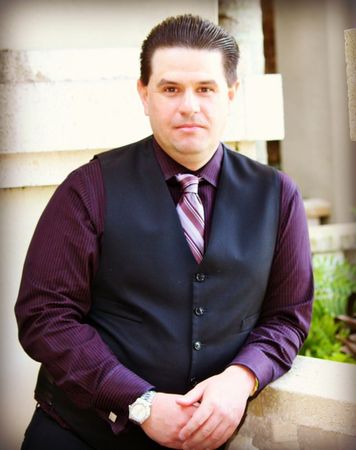 ---
READY TO REGISTER?
∼ REGISTRATION ∼


MEMBERS

Early Bird Member Rate (Before May 3rd)

$45

Member Rate (Before May 13th)

$60

Member Rate (After May 13th)

$75
NON MEMBERS

Early Bird Non-Member Rate (Before May 3rd)

$100

Non-Member Rate (Before May 13th)

$125

Non-Member Rate (After May 13th)

$150
---

∼ SPONSORSHIP OPPORTUNITIES ∼
MEMBERS

Single Table Sponsorship

$300

(includes one registration & one vendor table)

All Three 2019 Seminars Attendance

$750

(March/Asheville, May/Cornelius & August/TBD)

Two Speaking 5 Minute Sponsorships

$300

(not eligible to be discounted)
NON-MEMBERS


Single Table Sponsorship

$500

(includes one registration & one vendor table)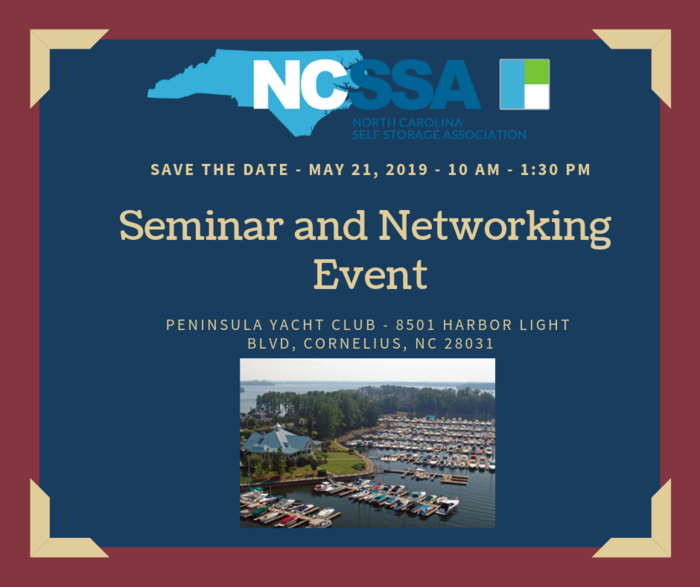 2019-05-21
2019-05-21
America/Detroit
NCSSA Seminar
NCSSA Seminar & Networking EventTuesday, May 21, 201910 a.m. - 1:30 p.m.  Peninsula Yacht Club 8501 Harbor Light Blvd, Cornelius, NC 28031 Speaker and Topic:  Topic - "Self Storage Domination, The Actions You Must Take To Dominate Your Competition"  Speaker - Matthew Van Horn is a co-founder of 3 Mile Domination Self Storage Services, a full-service management company specializing in self-storage management, marketing, and consulting within the self-storage industry. Matt is co-author of the book Self-Storage Domination, host of the weekly self-storage podcast "3 Mile Domination", and publisher of "Behind the Roll Up Door" a weekly newsletter dedicated to the self-storage industry, the former vice president of Cutting Edge Self Storage Management, and former president of the Florida Self Storage Association.   READY TO REGISTER?  Click HERE to Register Online! ∼ REGISTRATION ∼ MEMBERS Early Bird Member Rate (Before May 3rd)   $45 Member Rate (Before May 13th)   $60 Member Rate (After May 13th)   $75   NON MEMBERS   Early Bird Non-Member Rate (Before May 3rd)   $100 Non-Member Rate (Before May 13th)   $125 Non-Member Rate (After May 13th)   $150   ∼ SPONSORSHIP OPPORTUNITIES ∼ Click here to sponsor: 2019 NCSSA Seminar & Networking Event Sponsorship MEMBERS Single Table Sponsorship   $300   (includes one registration & one vendor table) All Three 2019 Seminars Attendance   $750   (March/Asheville, May/Cornelius & August/TBD) Two Speaking 5 Minute Sponsorships    $300    (not eligible to be discounted)   NON-MEMBERS    Single Table Sponsorship   $500   (includes one registration & one vendor table)    
Peninsula Yacht Club - 8501 Harbor Light Blvd, Cornelius, NC 28031