Complete Story

03/03/2017
Teacher Perspective: Making a Difference in the Classroom
By Robin Lashley, teacher at Middleburg Heights Junior High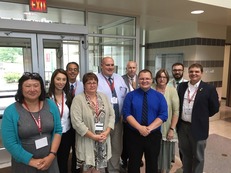 I have been an educator for 23 years and currently teach an 8th grade U.S. History class. I have found that the curriculum aligns perfectly with a large portion of the Ohio Grade 8 Social Studies Learning Outcomes. The textbooks provided through this program are fantastic. The students are better able to understand complex concepts (social contract theory, The Great Compromise, and judicial review, just to name a few) due to the straight-forward writing and realistic examples. The program will immerse teachers in the role of a student as you use the materials to prepare for a simulated congressional hearing as part of the experience.
My students are very excited about the simulated congressional hearings that they will be involved in at the end of the program. They are fully engaged in reading and applying primary source materials as they prepare for the hearings. Seeing the learning and high level discussions that are occurring among my students is truly rewarding. The students have a much better understanding of the Constitution and they can apply that knowledge to current events because of being exposed to We the People.
As a participant in this program, I have received many valuable resources that will impact the learning of my students far into the future. I highly recommend your involvement in We the People and hope that this program grows to become part of every student's education as they prepare to become involved citizens.
Interested? High School and Middle School teachers are encouraged to apply for the 2017-18 James Madison Legacy Project. Visit www.oclre.org/programs_wethepeople and click on the James Madison Legacy Project tab for an application.
Questions? Contact Tim Kalgreen (tkalgreen@oclre.org; 614-485-3515)
Research results from Georgetown University regarding the effectiveness of the professional development nationally can be found at www.jmlpresearch.org.