Details

April 6, 2020
12:00-1:30PM
POSTPONED: OLA Certification Class: JCARR
County Commissioners Association of Ohio, 209 E. State St. Columbus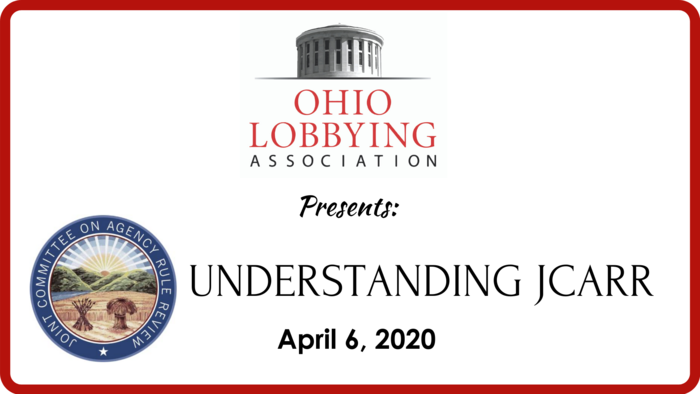 THIS EVENT HAS BEEN POSTPONED until later in 2020.
Presenters include: JCARR Executive Director Larry Wolpert, Deputy Director Greg Fouche, Senior Legal Counsel Ashley Frustaci, and Senior Rules Analyst Whitney Paterson
The presentation will include:
- JCARR's role in the rule-making process
- How best to communicate with JCARR staff when working on a rule
- Business Impact Analyses and the Common Sense Initiative Office
- Five-Year Rule Review Process
- New JCARR initiative regarding cutting red tape at the grassroots level
- Q&A

This session is for OLA Members Only. Bring your lunch for this session, which will qualify for 1.5 hours of OLA Certification Credit.
2020-04-06
2020-04-06 13:30:00
America/Detroit
POSTPONED: OLA Certification Class: JCARR
  THIS EVENT HAS BEEN POSTPONED until later in 2020.   Presenters include: JCARR Executive Director Larry Wolpert, Deputy Director Greg Fouche, Senior Legal Counsel Ashley Frustaci, and Senior Rules Analyst Whitney Paterson The presentation will include: - JCARR's role in the rule-making process- How best to communicate with JCARR staff when working on a rule- Business Impact Analyses and the Common Sense Initiative Office- Five-Year Rule Review Process- New JCARR initiative regarding cutting red tape at the grassroots level- Q&AThis session is for OLA Members Only. Bring your lunch for this session, which will qualify for 1.5 hours of OLA Certification Credit. REGISTER HERE  
County Commissioners Association of Ohio, 209 E. State St. Columbus
---