Complete Story

09/26/2021
Updates from the Antiracism Interest Group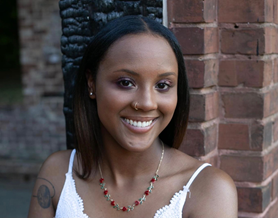 Please tell us a little bit about yourself (where are you from, what school do you attend, what are you studying in school, etc.)
I am 21 years old and was born and raised in Atlanta, GA. I attend Agnes Scott College in Decatur, GA where I am graduating in May 2022 with a major in Public Health and a minor in Chemistry.
What is something interesting that people don't typically know about you?
I play the harp and before the COVID-19 pandemic I used to teach young black girls, ages 7-12, how to play as well. I also used to teach in an afterschool program that taught kids ages 5-12 fun interactive science concepts.
Tell us about your areas of interest within injury and violence prevention. Why did you decide to pursue a fellowship in this field?
There are several fields within public health that interest me, specifically maternal and child health. After doing extensive research on the issues that affect maternal and child health, I became interested in the topics of domestic violence and violence against new mothers.
How did you find out about this opportunity?
This summer I participated in an internship cohort experience with Morehouse College in Atlanta, Georgia called Project Imhotep. Project Imhotep was designed to increase public health knowledge and training to underrepresented college students. After two intensive weeks of training I was paired with Dr. Shabbar I. Ranapurwala of the University of North Carolina Chapel Hill who guided, supervised, and contributed to my public health project. I was able to present my findings to several other members of my cohort, other similar cohorts that were funded by the CDC, and employees at the CDC.
What projects have you worked on during your fellowship?
The project that I worked on this summer analyzed the definition of race in a multitude of research manuscripts that were published in the Injury Prevention Journal. There is a lack of research that associates race and racial disparities as key factors that affect different groups of individuals and their susceptibility to injury and violence. I conducted a qualitative data analysis using excel sheets to identify themes within the abstracted studies in the Injury Prevention journal on their use of race. I found that most of the literature did not clearly define race and of the manuscripts that did define race, the definitions were different from one another making it hard to compare studies. I also found that a majority of the manuscripts that used race collapsed the definition. Therefore the gap in acknowledging the influences of race and minority disparities within injury and violence prevention continue to widen.
What has been your favorite or the most rewarding part of this fellowship?
I have two things that I believe are the most rewarding parts of my fellowship. 1) I was fortunate enough to not only get one great mentor but four. Along with Dr. Ranapurwala I received feedback, advice, and mentorship from Dr. Bernadette Hohl, Dr. Theresa Cruz, and Regan Murray. 2) I get to be a part of a research project that is a part of a larger initiative and research concern that is very important to AIG and SAVIR.
What are your plans after completing this fellowship?
My plans are continuing to work on the research that I did this summer by analyzing Injury Epidemiology, another injury and violence prevention journal. I also plan to attend the SAVIR conference in April 2022 where I can meet more professionals who focus on injury and violence prevention. After I graduate in May 2022, I plan on taking a gap year to attend mortuary school and not long after medical school.
What do you like to do for fun?
For fun I like to go bowling, spend time with my family, and read historical fiction novels.