---
SAVIR Injury & Violence Prevention Grand Rounds
The SAVIR Injury & Violence Prevention Grand Rounds series aims to support SAVIR's mission of providing leadership and fostering excellence in the science of violence and injury prevention and care.
The SAVIR Grand Rounds series:
Fosters improved cohesion and connections among participants of the injury and violence prevention research community with practitioners and policymakers.
Focuses the attention of the public health community on important injury and public health issues that affect our community, and
Strengthens capacities to promote and protect health by sharing knowledge about important public health problems and promising opportunities and efforts to address those problems in our area.
The goals of the SAVIR Grand Rounds series are to:
Promote collective, educational and scholarly activity among its participants in developing the field of injury prevention and control research, policy and program development, teaching, and other activities that synthesize expertise from multiple disciplines, in creating a body of expertise that is greater than the sum of contributions from individual scholars or centers.
Provide a resource to other researchers, practitioners and decision-makers in accessing expertise in the development of research, program and policy activities.
Share knowledge in IVP across stakeholders.
---
The second virtual IVPGR was held Thursday, June 10, 2021 at 4:00pm EDT: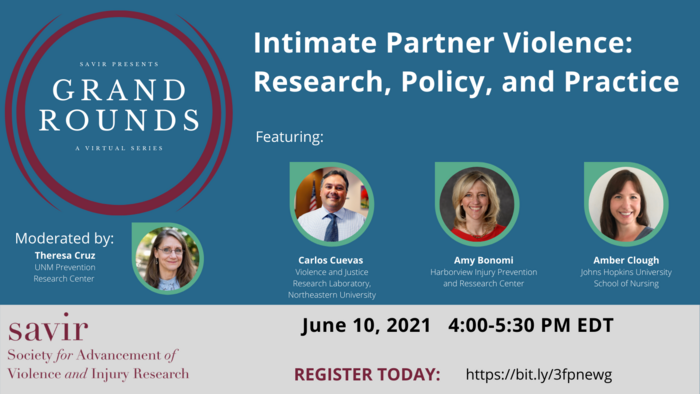 Moderator: Theresa Cruz, Ph.D., University of New Mexico Prevention Research Center
Panelists: Carlos Cuevas, Ph.D., Violence and Justice Research Laboratory, Northeastern University
Amy Bonomi, Ph.D., Harborview Injury Prevention Research Center
Amber Clough, Johns Hopkins University School of Nursing
---
The first virtual IVPGR was held on Thursday, March 11, 2021:
Topic: Moving beyond COVID: Injury Science Saves Lives
Moderator: Carol Runyan, PhD, MPH, Colorado University, Center for Bioethics and Humanities
Motor Vehicle epidemiology: Jordan Vandjelovic, MPH, Billings Area Indian Health Service
Firearm Suicide clinical perspectives: Emmy Betz, MD, MPH, Colorado University, Department of Emergency Medicine
Unintentional Overdose community partnerships: Jason Goldstick, PhD, University of Michigan Injury Prevention Center
Child maltreatment policy successes: Joanne Klevens, MD, PhD, MPH, CDC Division of Violence Prevention
Click here to view the recording
---
Help support these events and the messages by using #SAVIRGrandRounds when sharing on social media.