Complete Story

09/26/2021
National Injury Prevention Day is November 18
On November 18, SAVIR and the nation's leading injury and violence prevention organizations will come together to raise awareness about the burden of injury and violence. They will join forces to push for change on the 2nd annual National Injury Prevention Day. It is our hope that you will take part! Here are some ideas for how you can get involved:
Shine a Green Light. On Thursday, November 18, 2021, as the sun goes down across the nation, and a day of community outreach comes to a close, city landmarks will take on a new look. Trauma centers, businesses, bridges, government buildings and neighborhood homes will shine a green light. Ask your institution to participate by shining a green light to raise awareness of this issue!
Participate in a community event near you. Researchers can partner with injury prevention practitioners in communities all over the US where they are hosting events to raise awareness of the burden injury and violence. Visit https://www.injuryfree.org/nationalinjurypreventionday to find out what events are happening in your neighborhood and how you can get involved.
Launch new initiatives. Are you launching a new study or planning a new intervention? Consider launching your new initiative on November 18 and take advantage of the increased attention on injury prevention. Register your event at https://www.injuryfree.org/admin/nipdprogram_edit.cfm.
Feature your work. Share your expertise and research with community and healthcare partners, your social networks, and among your friends and family. Send a one or two sentence summary about your research, in layman's terms, together with a headshot to Elise Omaki at eperry@jhu.edu to be featured on the SAVIR channels.
Be a part of the Twitter Chat. A one-hour Twitter chat will take place at 1pm EST on November 18th, discussing the urgent need to prevent injuries and how everyone can play a role. To join the conversation, follow @InjuryFreeKids and use the hashtag #BeInjuryFree. Topics to be discussed include injuries caused by motor vehicle crashes, drownings, poisonings, firearms, sleep-related infant suffocations, and other injuries often seen in emergency departments across the country.
For more information and ideas, visit https://www.injuryfree.org/nationalinjurypreventionday!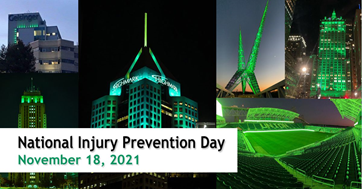 More Info