Conference - 2023
Registration is open!
There are many opportunities to participate - including Oral Presentations and Workshops, Poster Reception, Speed Mentoring, Reciprocity Ring, Journal Editors Roundtable, and much more - and you can renew your SAVIR membership at the same time. Join us in Denver!
---
The Denver Hilton Garden Inn Union Station, which is hosting our conference, is fully booked. Another option is the Rally Hotel at 1600 20th Street - about 0.4 mi away and an 8-minute walk or a 2-minute drive. Click below to check availability at the Rally:
---
Know before you go - click HERE for information on Denver!
---
Mark your calendar for the 2023 SAVIR Annual Conference: "Co-Creating Real-World Solutions: Science, Policy and Practice to Prevent Injury and Violence." The conference is the premier gathering of injury and violence prevention researchers and professionals. Learn more about safety promotion through cutting-edge methods, research, practice, and policy.
The 2023 conference will focus on the translation of research into real-world settings. The convening will explore strategies for the co-design of research questions and effective approaches to bridge research, policy and practice. The theme will focus on sharing the latest research findings as well as how these findings are moving into action through partnerships, communication and non-traditional methods of dissemination. Featuring fresh perspectives from thought leaders, advocates and change agents, this conference aims to share innovations, re-energize attendees and seed new connections to accelerate progress in safety science.

---
Opening Keynote announced
We are excited to announce our opening keynote speaker for the #SAVIR2023 conference on April 17 in Denver Colorado! Dr. Debra Houry is CDC's Chief Medical Officer/Deputy Director for Program and Science & has been Director of @CDCinjury since 2014. Learn more about the conference: https://bit.ly/3Spwbrz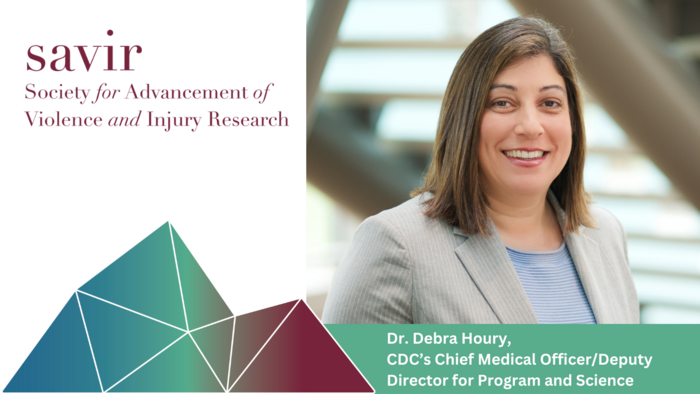 ---