2021 Promotions
Watermelon Queens
The Georgia Watermelon Queen Tour is part of the overall promotional effort of the Georgia Watermelon Association to increase sales. The Queen spends the year traveling to cities throughout Georgia and the nation, talking to people in supermarkets, at fairs and festivals, telling everyone about the nutritional benefits, and economical values of watermelon.
Watermelon Recipes
Georgia Watermelon Association has also comprised a list of watermelon recipes. We post seasonal favorites from time to time here so please check back frequently for new recipe postings. Each recipe contains detailed instructions on how to make it and the required ingredients. You can also access recipes HERE
---
2021 Queen Promotional Tour
The GWA is very fortunate to have Lindsey Westberry serving a consecutive term as their public relations representative this year! While she virtually promoted sweet Georgia watermelon most of last year, she is excited to be out and about in retail stores, schools, Truist Park, ATL & Co interview, athletic events and other venues sharing the health and nutritious benefits of this sweet and tasty fruit. Lindsey's favorite and most memorable promotions are the times she spends one-on-one with Georgia farmers. Thank you to Seedway for coordinating these visits with south Georgia producers to tour their operations and learn more about the industry.
The GWA is proud of the hard work, dedication and adaptability the GWA Queen, Lindsey Westberry, has shown throughout 2020 and 2021! As she adjusted to the new normal of social distancing and virtual promotions, she created some of the most unique experiences while connecting with consumers and promoting our favorite treat!
---
June 24, 2021 ATL & Co - The 2021 Georgia Watermelon Queen chats with Christine Pullara about this delicious summertime fruit.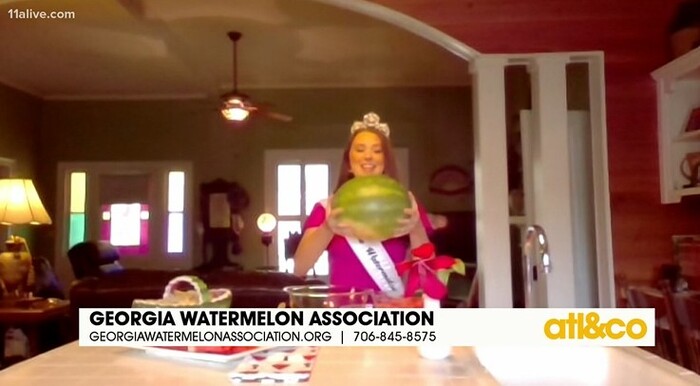 ---
GWA Promotional Campaign
Throughout each year the GWA works to serve the industry all year long. Here's some snapshots of how the association is advertising and marketing watermelon through social media, billboards, sponsoring at large athletic events, Nascar with Ross Chastain and many other industry opportunities.