Complete Story

Brian Perkins-2023
Toronto High School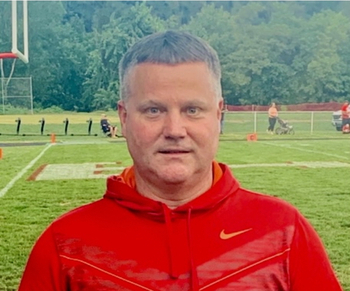 Brian Perkins
Brian Perkins is a 1989 graduate of East Liverpool High School and a 1993 graduate of West Liberty State College, where he earned his Bachelor of Science degree in Physical Education and Special Education. While at West Liberty, he played baseball for 4 years, and was named captain his senior year. His West Liberty team played in the 1990 NAIA College World Series.
Coach Perkins is currently in his 30th year of coaching high school baseball, all of which have been at Toronto High School. The first 11 years, his role was as an assistant coach, and the past 19 years as the head varsity coach. Coach Perkins also coached football for 12 years. His varsity baseball teams have a combined record of 370 wins and 102 losses, a remarkable winning percentage of 78%. Under his tenure, the Toronto baseball team has won 7 conference titles, 27 consecutive sectional titles, 7 district titles, 2 regional titles, 6 state poll titles and 2 state titles. Brian has been fortunate to have sent over 45 players on to the collegiate level, including one drafted by the MLB.
Brian has had 22 players make 1st Team All-Ohio, 3 players received Player of the Year, and many others have received state recognition. Brian feels blessed to have had so many assistant coaches over the years that have made a tremendous impact on the Toronto High School baseball program. He was inducted into the East District Hall of Fame in 2020 and has been the District's Coach of the Year 7 times. He is a member of the Ohio Valley Athletic Conference (OVAC), which includes 52 schools; and has served on the board for many years. He has been named Conference Coach of the Year 4 times. Brian also received the prestigious OVAC Bill Van Horne Coach of the Year in all sports in 2020. He has also had the honor of coaching in the Mizuno All-Star Series 4 times. He is member of the OHSBCA and served 7 years as the East District Representative on the Board of Directors. Finally, he has been named State Coach of the Year 5 times.
Coach Perkins' greatest accomplishment has been his family. He and his wife of 10 years, Jamie, have 2 children: Zach (21) and Camryn(16).