Complete Story

01/31/2019
Last day to register for Addiction Crisis Training-February 1-Don't miss out!
Last chance to register!
Deadline is Friday, Feb 1st!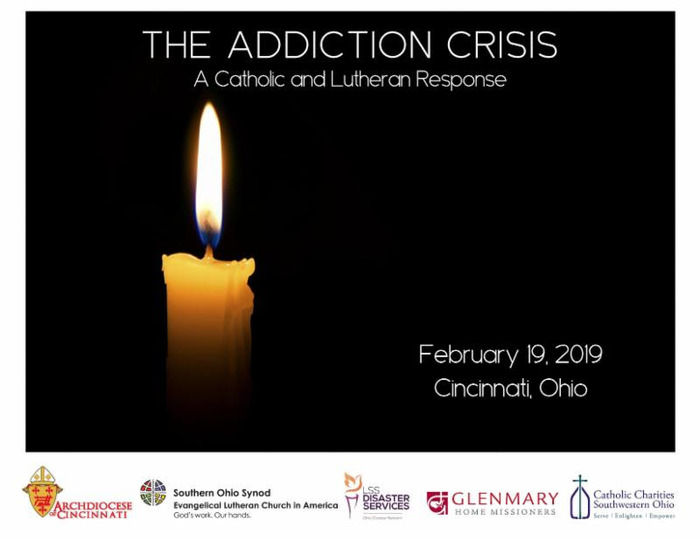 The scourge of addiction is so prevalent that the Gospel compels us to tackle it together, which the Catholic Archdiocese of Cincinnati and the Southern Ohio Synod will do on February 19!
This is an all-day event, involving prayer, plenary sessions on the addiction crisis and the faith community's response, and breakout conversations with addiction and mental health officials from nearly all of our counties.
Click HERE to register or send an email to Susan Barton-Nonno at sbarton-nonno@southernohiosynod.org if you have difficulty registering online.
Event Info...
When: Tuesday, February 19, 2019
Time: 9:30 a.m. - 3:30 p.m.
Event Agenda:
9:30-10:00

10:00-10:30

10:30-11:15

11:30-12:15

12:30-2:00

2:00-2:45

3:00-3:30

Registration

Prayer/welcome - Catholic Archbishop Schnurr and Bishop Dillahunt

Session 1- "Addiction and the Faith Community"

Session 2- "Addiction and the Family"

Lunch with Small group discussions by county/region with ADAMHS leaders

Session 3- "Connecting the Dots"

Joint Prayer and Commissioning Service
Where: Good Shepherd Catholic Church, 8815 E. Kemper Road, Cincinnati, OH
Guest speakers:
Sis Wenger, NACoA
Sis Wenger has been the President and CEO of the National Association for Children of Alcoholics (NACoA) for most of the last 21 years. At NACoA, Sis has written numerous articles published across disciplines, edited, co-authored or contributed to books, journals, and program materials, in addition to her advocacy and leadership roles at NACoA. She has directed The Clergy Education and Training Project® which has created training manuals, handbooks and a seminary curriculum, and one-day seminars for over 4,000 clergy in over 30 states. Her specialty is children and families impacted by parental addiction and she currently directs the evidence-based Celebrating Families!
Mark Hushen, O.S.F.S.
Father Mark Hushen is the Chief Mission and Legacy Officer of Ashley. He brings a wealth of experience in the areas of 12 Step spirituality and alcohol and drug addiction treatment. He is a Catholic priest, a recovering alcoholic and addict, and served as the President of Ashley for 10 years. Prior to joining Ashley, he served as the Director of Clinical Pastoral Care at Caron Treatment Centers in Pennsylvania. He received his B.S. from Penn State University, State College, his Master of Divinity from De Sales School of Theology, and his M.A. in counseling from The Catholic University of America.
Sponsors:
Archdiocese of Cincinnati
Catholic Charities Southwestern Ohio
Southern Ohio Synod, Evangelical Lutheran Church in America
LSS Disaster Services
Glenmary Home Missioners
Volunteers are still needed to help facilitate the county breakout sessions and help with the logistics of the day. Please contact Theresa Hurlburt at theresa@holyfamilymiddletown.com if you're interested in volunteering.
---