Complete Story

08/28/2013
Celebrate Global Church Sunday
This fall, congregations are invited to celebrate our connections and common mission in Christ's global church in conjunction with World Day of Prayer for Peace (September 21), World Communion Sunday (October 6) or Lutheran World Federation Sunday (October 27). Here are some ways to get started:
Pick a day to observe Global Church Sunday and announce it in your church bulletin and newsletter.
Plan a global church inspired worship service. Find worship resources at www.ELCA.org/worship.
Share inspiring stories from the global church with your congregation by downloading Hand in Hand bulletin inserts at www.ELCA.org/handinhand or ordering multiple free Hand in Hand newsletters at www.ELCA.org/GlobalMission-Resources.
Host a global church-themed coffee hour, complete with themed placemats and other resources available online at www.ELCA.org/GlobalMission-Resources.
Invite a missionary or Young Adult in Global Mission volunteer that you support to write a special note to the congregation or arrange for a Skype visit or short video greeting.
Know former missionaries or Young Adults in Global Mission volunteers? Invite them to tell their stories in church.
Take a special offering to support ELCA Missionaries, Young Adults in Global Mission, International Leaders or Global Ministries. Learn more by calling 800-638-3522, ext.2657, or emailing globalchurch@elca.org.
Send pictures and stories from your congregation's celebration to globalchurch@elca.org and you may be featured on the ELCA page on Facebook or on LivingLutheran.com.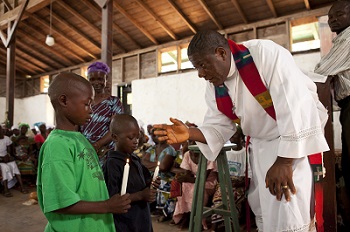 Church communicators should check out the "Church Communicators" section on the Global Church Sunday website for ideas and resources for promoting this special day(s).