Complete Story

12/10/2013
2nd Round of SOS Leadership Institute Wraps Up; New Class Begins Jan 18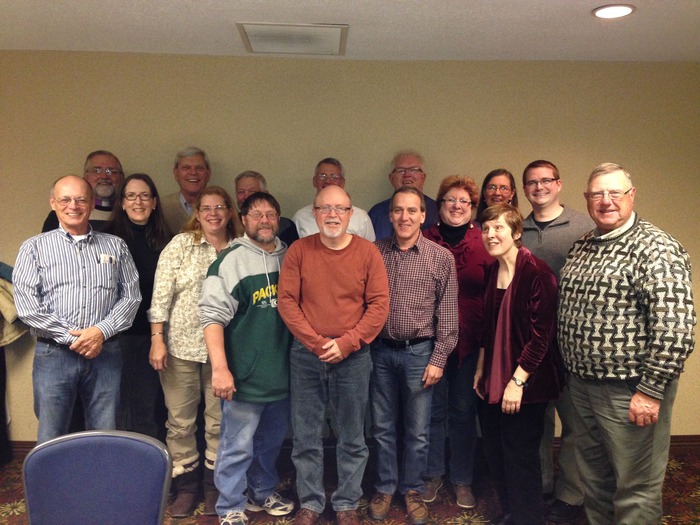 The second group of pastors and lay leaders to take part in the Southern Ohio Synod's Leadership Institute gathered for the last time, officially, the weekend of December 7-8 to discuss stewardship and its impact on congregational growth.
A third class, composed of representatives from 10 of our congregations, will gather for the first time in Cincinnati the weekend of January 18-19, 2014. This class will cover the same eight topics as the previous classes, which are Leadership; Leader as Change Agent; Leader and Spirituality; Leadership in Context; Purpose, Vision and Strategic Plan; Governance and Decision Making; Communications and Stewardship. Presenters on these topics are Pr. Pete Rudowski, Mary Adams (Retired from Proctor & Gamble), Pr. Wally Arnold, Kenneth Inskeep (Director of Research & Evaluation of the ELCA), Pr. Ed Williams and Susan Barton-Nonno. Although the topics are the same, the application is different based on each congregation's geography, history, and ministry context.
The Leadership Institute's purpose is to train leaders to grow their congregations spiritually, as nurturing communities, in mission to the world, and numerically through effective parish administration. Participants also gain new friendships and contacts across the synod with whom they can continue to share ideas, triumphs and struggles.
Congratulations to the 2012-2013 class! May God continue to grow you, your lay leaders and your congregations in spirit, in congregational size and in mission as you apply all that you have learned over the last two years.