Symposium
UIA51

24 - 26 April 2023

Grand Hotel Karel V

Utrecht, The Netherlands
The UIA is looking forward to an engaging symposium chaired by Dr Andrew Feeney, Lecturer in the Centre for Medical and Industrial Ultrasonics at the University of Glasgow.
The three-day symposium will feature a day focusing on industrial applications on Monday, with medical applications on Wednesday. Subject-specific topics of current interest and importance in ultrasonics will be central to discussions among delegates on Tuesday, followed by poster presentations and a laboratory tour. To conclude Tuesday, delegates will be invited to a canal tour leading to the Oudaen Brewery, where dinner and a tour will take place.
Utrecht was selected for our symposium due to its central location in the Netherlands, and importantly ideally situated in the vicinity of universities with ultrasonic research activity. These include UMC Utrecht, which hosts the Center for Image Sciences (CIS), a Focused Ultrasound Foundation Centre of Excellence; Eindhoven University of Technology, which hosts PULS/e (Photoacoustics & Ultrasound Laboratory Eindhoven); and Delft University of Technology. Utrecht can be reached via a thirty-minute train journey from Amsterdam's Schiphol Airport.
We invite you to look at the Call for Presentations information below, for registration, planning your trip with us to Utrecht, and our Tuesday evening event. We hope to see you there!
Conference Schedule
UIA51 will begin on Monday, April 24 with Industrial Sessions. Tuesday, April 25 will include workshops, poster sessions, and a tour/presentation - and end with our evening event, which will include a canal tour and then a brewery tour and dinner at Oudeen Brewery. Wednesday, April 26 features our Medical Sessions, and the conference concludes that day by 5 pm.
Call for Presentations: Due by 31 January
UIA is accepting presentations in four areas:¨
Industrial
¨Medical
Ultrasonic Basics
Posters
Do you have a successful ultrasound application?
Some research that the industry would be interested in?
Maybe an update to a previous research presentation?
Submissions will be acknowledged and, when accepted, scheduled by the end of February. Questions? Please call UIA at +1.937.586.3725 or email Fran Rickenbach at fran@meinet.com
Conference Headquarters: Grand Hotel Karel V
Check out the Grand Hotel Karel V which will be the headquarters hotel for UIA51. Located just a five-minute walk from Central Station, the hotel provides a magnificent setting for our symposium. Our room rate will be 180E.
What was once a 14th-century monastery and served as accommodation for knights & priests is now a luxury five-star hotel in the centre of Utrecht. Step inside a beautiful monumental building surrounded by several large gardens. You can relax in one of our spacious rooms overlooking the green surroundings.
If you wish to book either Saturday, 23 April or Thursday, 27 April, you must include the days of the Symposium. The default is for a sole occupant—you can
adjust check-in if you have a traveling companion staying in your room.
Due to room renovations, a complimentary upgrade is offered to our main building to the Superior (Empire Rooms and Suites).
Make your hotel reservations here.
Registration is NOW OPEN!
Click here to register for UIA51
Travel to and around Utrecht
Delta, KLM, American, and United provide direct service from US gateway cities to Schipol Airport in Amsterdam.
Utrecht is just a 29-minute train ride from Schipol Airport in Amsterdam to Central Station. From there, you have a five-minute walk to our hotel. For our European participants, every train that goes through The Netherlands stops in Utrecht!
Utrecht is a walking city, with restaurants, stores, and museums just a few minutes from our hotel. Plan to arrive early or stay late to enjoy the open-air weekly food markets. Bring good walking shoes! April is the driest month in Utrecht, and temperatures will vary between 40 - 60 degrees. Bring a sweater to enjoy the many bars and restaurants with outside service.
Tuesday Evening Event at the Oudaen Brewery
Our evening begins with a tour of the Utrecht canals as we board our boat near our hotel. Oudaen brewery is right in the middle of Utrecht: around 75,000 litres of beer are brewed in the wharf cellar of Stadskasteel (City Castle) Oudaen every year, according to traditional methods. Each beer has its own distinct character. You can sample beers amid copper kettles, tap your own beer from the uKeg, and enjoy a tour of this fully-renovated, modern brewery in the heart of Utrecht., followed by dinner.
This event is included in your Symposium registration; extra tickets for guests are available.


More information on the Symposium will be posted here when available.
---
General Information
UIA51
24 - 26 April 2023
Grand Hotel Karel V, Utrecht, The Netherlands
Based on our successful multi-access conference in 2022, we will be offering a virtual component so that participants from around the globe unable to travel to the UK will still be able to participate.
Multi-access (and what this means)
The Symposium will accommodate both live and virtual participants. The schedule for the Symposium has been designed for easy viewing for both UK and European participants and those from North America. All presentations will be live streamed and participants will be able to answer questions and participate in unconference discussions.
To cover the production costs for the virtual platform the registration fee will be the same as the early registration for live participants.
UIA51 Code of Conduct
UIA is committed to providing a safe, productive, and welcoming environment for all meeting participants and staff. All participants are expected to abide by this Virtual Programs Code of Conduct.
UIA has zero-tolerance for any form of discrimination or harassment, including but not limited to sexual harassment by participants or our staff at our meetings.
Unacceptable Behavior is defined as:
Harassment, intimidation, or discrimination in any form.
Verbal abuse of any participant or UIA staff member.
Examples of verbal abuse include, but are not limited to, verbal comments related to gender, sexual orientation, disability, physical appearance, body size, race, religion, national origin, inappropriate use of nudity and/or sexual images in public spaces or in presentations or threatening or stalking any participant.
Registration
Registration Fees
Live registration fees:
Members
Before 1 February $650
From 1 February $899
Nonmembers
Before 1 February $850
From 1 February $999
Students $495
Poster Presenters
$199 (includes Tuesday and your choice of either Monday or Wednesday at no additional charge
Daily registration - Members
Before 1 February $299
From 1 February $425
Daily registration - Nonmembers
Before 1 February $499
From 1 February $599
Virtual registration Fees:
Members $650
Nonmembers $850
Daily - members $299
Daily - nonmembers $499
Students Full - $495
Students Daily - $199
UIA is pleased to underwrite student participation as a full symposium participant OR as a poster presenter. Students submitting posters have the choice of adding either the Monday Industrial Sessions or the Wednesday Medical Sessions at no additional charge.
Register NOW!
Featured Speakers
Featured Speakers
Will be announced shortly and displayed here.
Program Schedule
Full Symposium Program Schedule
Will be displayed here when completed.
Travel Info
Getting to Utrecht, The Netherlands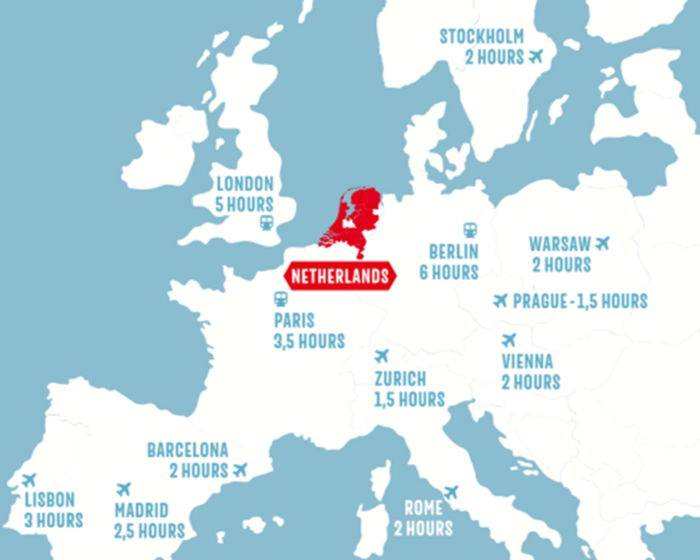 Utrecht is conveniently located with both train and air access from throughout Europe.
Delta, KLM, American, and United provide direct service from US gateway cities to Schipol Airport in Amsterdam.
Since all trains in The Netherlands stop in Utrecht, arriving from Schiphol airport is a quick 30-minute train ride.
The Karel V Hotel is a delightful 5 minute walk from the Central Station. The ease of access to major European cities provides great opportunities for pre and post Symposium travel.
Past UIA Symposia and Workshops