Convention Overview
Central States Communication Association
2022 Annual Conference
Re-Connect
Madison, Wisconsin
March 30 – April 3, 2022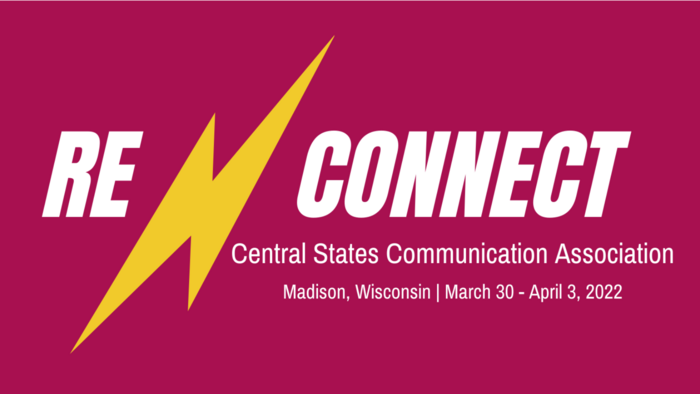 Faculty, students, independent scholars, and community partners are all encouraged to attend the 2022 convention to explore the conference theme: Re-Connect.
The conference will feature:
Research paper sessions and discussion panels organized by Interest Groups and Caucuses
Great Ideas For Teaching (GIFT) sessions
Regional scholarship showcases organized by the States Advisory Council
Undergraduate Honors Conference
Federation Prize recipient presentation
Spotlight panels connected to conference theme
... and much more!
The deadline for submissions is October 8, 2021, 11:59 pm CDT
Online Submission Link: https://ww4.aievolution.com/csc2201/
Primary Program Planner: Dr. Debbie Ford, DebraFord@creighton.edu
Preconference information will be available in the fall.
The Madison Concourse Hotel and Governor's Club Information
The 2022 conference hotel is The Madison Concourse Hotel and Governor's Club.
Hotel address: 1 W. Dayton St., Madison, WI 35703, USA
Phone: (800) 356-8293
2022 Room Rates
Concourse Level: $139/night plus 15.5% taxes
Governor's Club Level: $189/night plus 15.5% taxes (receives access to the 12th-floor capitol-view lounge featuring complimentary breakfast in the mornings and cocktails and hors d'oeuvres in the evenings)
Parking: $10 per day
Registration opens January 2022.
A credit card is required to reserve your room, but no deposit will be collected at this time.
Rooms are available on a first-come, first-served basis. Reserve early to ensure you have lodging onsite!
Important: We strongly suggest that you book your room as soon as possible but before February 14. You do not have to pay your room fee in advance -- you simply need a credit card to hold your room. Once the hotel is filled, there will be no overflow hotels for this year's conference. Those who reserve early should be easily accommodated.
Hotel highlights:
Central location in Downtown Madison
Complimentary airport shuttle
Complimentary wireless internet access in sleeping rooms
Complimentary shared wireless internet access in meeting rooms
Indoor pool and fitness center
Business center
12th floor Governor's Club Lounge with Capitol views
Underground parking