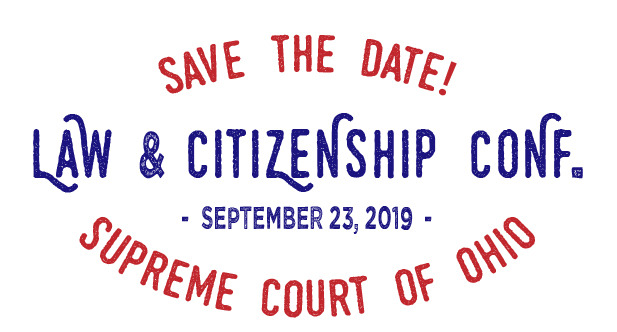 Theme and session descriptions are forthcoming
---
About this conference
The Law & Citizenship Conference is an annual statewide gathering of teachers, professors, lawyers, and other civic and law-related education professionals who come together to share curriculum, effective teaching strategies, best practices, and the latest hot topic issues important to teachers. Teachers leave the conference prepared to spark lively classroom discussions and strengthen students' analytical skills. A great way to start the school year with new content, lessons, and ideas!
---
Questions can be referred to Ryan Suskey at rsuskey@oclre.org or 614-485-3506.
Pricing & Registration
The 2018 conference was held on Monday, September 17th, with an Introduction to Mock Trial professional development on Tuesday, September 18th.
To keep costs lower for non-mock trial attendees, Conference registration did not include a copy of the case file. Attendees wishing to purchase a case file can do so at a significantly reduced rate as an "add-on." (For example, if you would like to purchase the digital case and attend the conference and the PD it would be $180.)
Members
Non-Members

Conference Registration
(Does not include case file)

$80.00
$120

Digital Case File (Add-on)

$90.00
No Discount

Hard Copy Case File (Add-on)

$115.00
No Discount

Intro to Mock Trial PD (Add-on)

$10.00
No Discount
Not a member yet? You can easily join while registering for any OCLRE program!
The 2018 Law & Citizenship Conference focused on the theme of "Teaching Inquiry - Inspiring Action." The day was full of sessions and speakers highlighting ways to ask students big questions that springboard into deeper and more meaningful civic engagement.
The 2018 conference program contains a complete schedule of sessions and descriptions of each session.
---
2018 L&C Keynote Speaker
Dr. Trisha Hernandez, Because I Said I Would
Because I said I would is a social movement dedicated to the betterment of humanity through promises made and kept. Dr. Hernandez will speak about the importance of making and keeping promises, and how to get your students involved in making promises that improve our society as active and engaged citizens.
Dr. Hernandez was inspired to take action when she heard organization founder, Alex Sheen, speak at a conference. Following through on a promise she made to herself that day, Dr. Hernandez packed up her California dream job to join the Because I said I would team. As VP of Character Education, Dr. Hernandez helps to advance the mission through the creation of curriculum and programming.
---
Conference Sessions
All sessions were 1-hour in length. To view the schedule, click here.
2019 High School Mock Trial Case Law Review
This session provided an overview of the case law included in the 2019 Mock Trial Case Law.
2019 High School Mock Trial Case Presentation
Members of the case committee, competition committee, and OCLRE staff presented the new case during the session, and reviewed rule changes for the 2019 season.
**Please note, due to a significant reduction in the cost of the conference, the case file is available for a discounted add-on rate.**
Art and Inquiry
Creative expression in the social studies and ELA classroom is often limited in scope to the persuasive essay or creative writing. Think outside the writing box and learn about how you can integrate the study of and creation of visual art in your classroom. Critical study of art can help students explore the "big questions" and inspire them to engage in dialogue about issues and solutions in their communities.
Controversy in The Classroom
All OCLRE programs provide opportunities to engage in one of the Six Proven Practices of civic learning: discussing current events and controversial issues. Simple in theory but scary in practice, this session breaks down the methodologies to incorporate positive and productive discussion of controversial issues in any class.
Free Speech for Teachers?
Although many landmark cases have dealt with students rights under the First Amendment (e.g. Tinker, Morse, Kuhlmeier) most teachers know far less about their own First Amendment rights in the classroom and school. Inspired by the wave of student activism and organizing around the nation, this session will help teachers to understand how they fit into the picture of free speech and petition in the school setting.
Integrating Mock Trial in a Classroom Curricula
Join teachers from River Valley High School in southeast Ohio for one model of how they have integrated mock trial into the AP English Literature and Composition course. Using AP as their "north star" the teachers of River Valley have outlined an ambitious and rigorous curriculum that pushes all students to achieve more.
Making Time for Inquiry: The IDM in a Single Lesson
Although the benefits of robust classroom inquiry are clear, making time for inquiry among the plethora of other priorities remains a challenge. This session will review new updates from the authors of the C3 Framework to strip inquiry back to its barest essentials while still maintaining its essence. Teachers will learn strategies for incorporating "focused inquiries" that take 1-2 lessons to implement, and resources to begin constructing their own inquiries for classroom use.
Right Question Institute: Teaching Teachers and Students to Ask More Questions
This session models the Question Formulation Technique (QFT) featured in the book Make Just One Change. The QFT is a brilliantly simple, yet innovative tool to inspire your students to ask more questions. Participants experience parts of the technique in action and are shown examples for classroom implementation. Additionally, teachers will learn about a blog on Big Questions and a course through NCSS, both of which give opportunities to hone their own question-asking skills.
Teaching with Inquiry
Inquiry-based teaching is the springboard to independent learners and active citizens. This session will overview the C3 Framework for Inquiry and how it can be used to organize content in the social studies. Attendees will leave with ready to use lesson plans and guidance for modification that will help them turn their classrooms into a place where students tackle tough questions.
FAQ
Where is the conference held?
The 2018 Conference will be held at the Westin Columbus Downtown (310 S High St, Columbus, OH 43215).
What is included in the cost of registration?
Conference registration includes all sessions, meals, and events for the day(s) on which you have registered. Registration does not include lodging, dinner, or incidentals during your stay.
New for 2018: To keep costs low for non-mock trial attendees, the conference cost does not include a copy of the case file. Those wishing to purchase the case file can choose this as an add-on option at a significantly reduced cost. (total for conference and case file = $170 digital, $195 hard copy)
Can I earn CLE credit or contact hours for attending the conference?
The conference is not approved for CLE credit for attorneys at this time. All attendees will receive contact hour certificates for the number of hours they attended, which can be used by teachers for recertification or for district purposes.