Ohio Government in Action
photos courtesy of Dave Liggett
Ohio Government in Action is a two-day interactive program that provides educators with effective teaching tools and a renewed enthusiasm they can take back to the classroom.

Go be­hind the scenes of Ohio's gov­ern­ment in Ohio's state cap­i­tal where ed­u­ca­tors in­ter­act with the movers and shak­ers in the ex­ec­u­tive, ju­di­cial and leg­isla­tive branches of Ohio's gov­ern­ment!
---
Teachers share their feedback about OGIA:
"High energy, exciting, and engaging! Valuable data and content for the classroom!"
"Inspiring and pragmatic -- ideas to implement immediately!"
"Speakers were engaging, subject matters were relevant, and sessions were interesting!"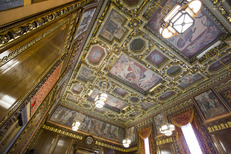 "I net­worked, learned a great deal, and left with solid ma­te­r­ial I can use. Quite the tri­fecta!"
"[OGIA]def­i­nitely in­spired some new teach­ing strate­gies and fur­ther knowl­edge in the con­tent area."
"I was to­tally im­pressed with the con­fer­ence. I have raved about it all day with both my stu­dents and my col­leagues."
"…a great time and very re­ward­ing pro­fes­sional de­vel­op­ment op­por­tu­nity…"
---
See the Ohio Constitution come to life
This an­nual work­shop gives teach­ers an in­sider's view of state gov­ern­ment: meet with Supreme Court jus­tices, state leg­is­la­tors, cit­i­zen groups and more; tour the award-win­ning Supreme Court Vis­i­tor Ed­u­ca­tion Cen­ter and the Ohio State­house; ob­serve leg­isla­tive and court­room sim­u­la­tions; and more!
---
Practical classroom application
After you ex­pe­ri­ence first-hand how in­di­vid­u­als and groups work to­gether to make, in­ter­pret and en­force the Ohio Con­sti­tu­tion, head back to the class­room with ready-to-use les­son plans, class­room ac­tiv­i­ties and re­sources.
---
For more information about OGIA contact Ryan Suskey, [email protected], 614-485-3506.