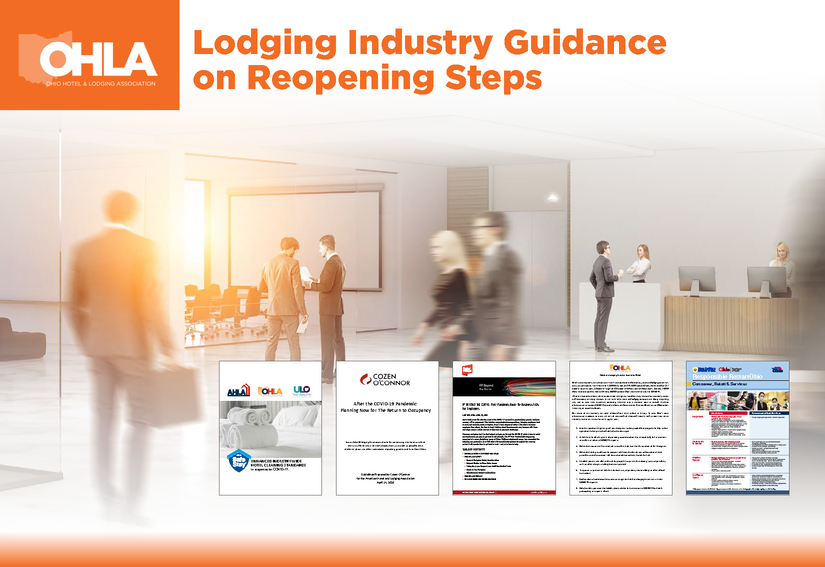 As efforts to mitigate the impact of COVID-19 continue to produce better results, discussions at the national, state and local level transition to the reopening of commerce. Governments, elected officials, and partners in the travel economy have asked our industry for input on the necessary steps that will allow a safe and responsible restart to business, travel and other economic activity.  The hotel & lodging industry has provided guidance in a number of key areas that will ensure that as our businesses get back to more regular operation, employees, guests, properties, and our entire state are safe, protected and able to take advantage of all that Ohio has to offer.


Click the thumbnail to access the full resource.
Enhanced Industry-Wide Hotel Cleaning Standards in Response to COVID-19

The lodging industry has a longstanding commitment to cleanliness and safety for our employees and guests and already maintained strict protocols in this regard. These new health and safety guidelines represent best practices for the hotel industry, in accordance with CDC guidelines, during the re-opening phase of the economy. Developed by an Advisory Council including all of the major national hotel brands and companies, these industry-wide standards are endorsed by the Ohio Hotel & Lodging Association as the basis for state and local benchmarks.

After the COVID-19 Pandemic: Planning Now for The Return to Occupancy

Issues hotel & lodging businesses should be considering now to ensure that they are able to return to normal operations as quickly as possible once shelter-in-place and other restrictions impacting guest travel have been lifted.

Post-Pandemic Back-To-Business Principles For Employers 

As we look toward conducting business after the worst of the pandemic has passed, taking the right steps from a human resource and human capital standpoint will be paramount. This includes assessing business operations, bringing employees back to work, and ensuring a safe workplace. Even if these steps are further in the future for some employers than others, the time to begin thinking about these issues is now, because with these next steps comes a whole new set of labor and employment challenges.

Hotel and Lodging Industry Economic Relief

Ohio's travel economy is essential to the state's overall health and prosperity. Lodging businesses are a key contributor, with more than 42,000 direct jobs and 192,000 supported jobs. Hotels produce $27 billion in business sales, $8 billion in wages and $4 billion in federal, state and local taxes. Already, 29,000 direct hotel jobs (70 percent) and nearly 86,570 supported jobs have been lost due to COVID-19. While the economic impacts of the public health emergency will affect every sector of our economy, hotels and hospitality saw early impacts. At the same time, hotel and lodging operators are doing everything they can to keep their businesses operating wherever that is possible, both to provide essential infrastructure to support COVID-19 response efforts, and also to other Essential Businesses and Operations which rely on accommodations.

Responsible RestartOhio Consumer, Retail and Services

The State of Ohio has produced Sector Specific Operating Requirements for Consumer, Retail & Services businesses. These standards lay out mandatory and recommended practices for hotel & lodging businesses to follow to ensure employee and guest health and safety.
---