OHLA Education & Training Fund
About OHLA ETF -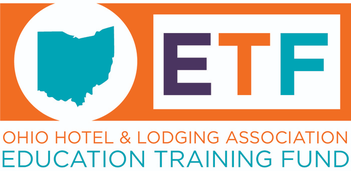 The OHLA Education & Training Fund (ETF) is designed to help finance the continuing education of hospitality industry employees who wish to further themselves in the performance of their duties. The OHLA ETF will offer to support 50% of the class cost in a matching program with your property or other source (up to $500 per F/T employee, per year). Newly added benefit for P/T employees with a minimum of 20 hrs/wk, up to $250 per year. These programs can be college or technical school hospitality related courses/seminars. Other sources will be considered as long as the program will benefit the employee in their job. Exclusions: General Managers, Owners and Independent Contractors.
Applications are reviewed quarterly before OHLA Board of Trustees Meetings.
---
How to Apply -
To apply for a scholarship please complete form below and submit to cindy@ohla.org. Ask your GM to send their approval online.
You may also print and return a completed OHLA Scholarship Application, and a General Managers written recommendation to the Education and Training Fund Committee, Ohio Hotel & Lodging Association, 175 S. Third St. Suite 170, Columbus OH 43215.
---
Support the OHLA Education & Training Fund -
Founded in 1893, the Ohio Hotel & Lodging Association (OHLA) has been serving lodging businesses for more than 130 years and is dedicated to providing service, resources and connections that make the hotel & lodging businesses and those who work in them more successful.
As we progress out of the most challenging years for the lodging industry in recent history, we are dedicated to the recovery and growth of our workforce.
You have the opportunity to positively impact the lodging industry's workforce through a donation to our Education & Training Fund that directly assists deserving applicants to take part in opportunities that advance their hospitality careers. Thus far in 2022, OHLA has awarded $10,813 scholarship dollars.
We appreciate your consideration in supporting the dedicated professionals in Ohio's lodging industry.
The opportunity for you to make a difference in someone's education and training awaits you. Dreams Happen Here.
Thank You to Our Partners
---