Ohio Hotel PAC
Ohio's hotel and lodging industry has a strong voice through OHLA. We must also be a strong player in the political arena to build the influence necessary to win important battles. Some of our most important activities can only be funded through our political action committee — Ohio Hotel PAC.
---
HOW DOES OHIO HOTEL PAC HELP YOU?
Every day, OHLA is fighting harder for the hotel and lodging industry and for our partners in the travel economy.
A strong PAC helps us deliver results on issues such as:
Fighting illegal and ill-conceived lodging taxes
Keeping competition fair and on a level playing field
Ending deceptive trade practices that hurt hoteliers
Requiring oversight of platforms like Airbnb
Beating back burdensome and costly regulations
Securing adequate support for travel & tourism marketing
Improving infrastructure and public services
Building a more business-friendly, pro-jobs environment

State and federal laws restrict certain activities, such as political contributions, from using corporate funds. Money from dues, sponsorships and benefit programs cannot be used for this purpose. To undertake successful political efforts, it is critical for OHLA to secure financial support for our PAC from individuals — our members, partners and participants in the travel economy.
---
WE NEED YOU!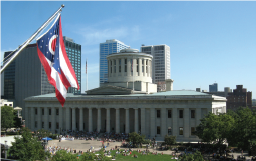 Please join the fight on behalf of our industry, and help us win. Show your support for OHLA and your desire for hotel and lodging professionals to be the winning team. Join those leaders in our industry who already make an investment that benefits every person and business in our sector. Make a personal annual contribution to Ohio Hotel PAC today.
CLICK HERE TO MAKE A CONTIBUTION or email joe@ohla.org, speak with any OHLA team member or volunteer leader, or call OHLA at 614-461-6424 to participate via credit card.
Corporate contributions cannot be accepted. Contributions are not tax deductible.


---
WHAT IS A PAC?
A political action committee, or PAC, is a legally recognized organization that represents a group of like-minded individuals and organizations who want to have an effective voice in the democratic process.
WHY DO WE NEED OHIO HOTEL PAC?
Having a PAC allows us to do things that support our industry's goals and agenda that we cannot do through other means, such as supporting elected officials, candidates who champion our cause and campaigns that achieve our desired outcomes.
HOW STRONG IS OUR INDUSTRY PAC?
We are working hard to make OHLA more effective and influential than ever before. We need Ohio Hotel PAC to keep pace with that transformational growth. Currently, our PAC does not reflect the incredible size and economic impact of hotel & lodging. Fewer than 11% of OHLA member entities are represented by individuals participating in Ohio Hotel PAC. Fewer than 0.0015% of the number of individuals working in our industry participate.
WHAT IS CHANGING REGARDING OUR POLITICAL ACTIVITY?
We face new challenges, new competitors, and new opponents. These forces come with limitless resources and large PACs of their own. Armed with that ammunition, they can line up more political support, secure more allies, and fund more campaigns against our interests.
DOES OHIO HOTEL PAC PAY FOR OUR LOBBYING AND GOVERNMENT
AFFAIRS?
No. OHLA must direct resources from the association budget for our top-notch lobbying and government affairs activities. PAC funding is only used for very specific activities that cannot be funded by OHLA or corporate funds.
DOES PAC ACTIVITY FAVOR A POLITICAL PARTY I DON'T SUPPORT?
No. Ohio Hotel PAC takes a very balanced, bipartisan approach to building support for our industry. We support elected officials, candidates and campaigns based on the interests of the hotel and lodging community, and nothing else. We will always openly discuss requests for support and ideas with PAC participants.
---
Ohio Hotel PAC gives everyone in our industry and the travel economy a louder, stronger voice
by banding together individuals, combining their investments, and directing those resources in a
smart, effective way.
Thank You to Our Partners
---