Contests and Awards
2021 Osman C. Hooper Non-Daily Newspaper Competition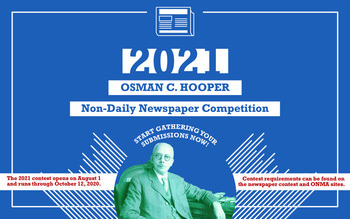 The annual Osman C. Hooper Non-Daily Newspaper Competition recognizes the best non-daily newspapers in Ohio.
To access the competition website, go here. For rules and requirements, click here
The 2021 competition opens on August 1, 2020 and runs through October 12, 2020.
New category this year is Coronavirus Coverage. Submit up to 6 individual pieces (stories, graphics, photos, editorials, feature stories, etc.) as one package.
Contact Sue Bazzoli at sbazzoli@ohionews.org or 614-486-6677 ext. 1018 for the association code and to verify your paper's circulation or if you have any questions.
About Osman C. Hooper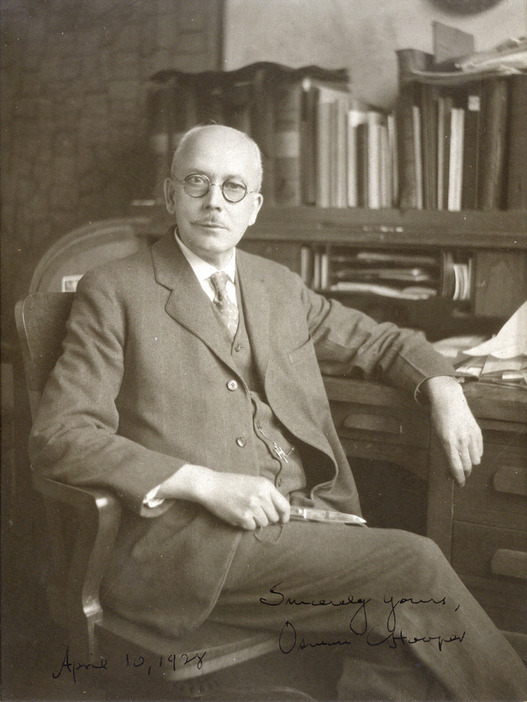 The contest is named after an important Ohio journalist. When the Ohio News Media Association was established in 1933 as the Ohio Newspaper Association, Osman Hooper was already a significant contributor to the organization. For many years he conducted the annual "Ohio Newspaper Show" which was held as part of the Buckeye Press Association convention in Columbus. At the turn of the century, the Buckeye Press Association, which represented weekly newspaper publishers, and the Associated Ohio Dailies were conducting separate events. ONA's founding was the result of their merger into a single state trade association.
It was also in 1933 that Hooper published one of several books, "The History of Ohio Journalism," which traces the beginnings of Ohio newspapers. At the 1937 ONA Convention, Hooper was presented a resolution citing "his part in the development of increasingly high standards for Ohio community papers" and his name was added to the annual weekly newspaper contest.
Hooper spent 58 years at The Columbus Dispatch, beginning as a telegraph editor in 1880. He was an editorial writer for nearly 20 years and was made literary editor in 1917. Hooper became a journalism professor at Ohio State University in 1918 and was named professor emeritus in 1932. Throughout his teaching career he continued to edit The Dispatch book page.
In 1925, Hooper established the Ohio Journalism Hall of Fame which is housed at Ohio State University and in 1939 he was inducted into the Journalism Hall of Fame. He died in 1941 at the age of 83.
Previous Year's Winners
Collegiate Newspaper & Website Competition
In 2009, The Ohio News Media Association & Ohio News Media Foundation established the annual Ohio Collegiate Newspaper and Website Competition to recognize the achievements of Ohio's college and university newspapers.
To access the competition website, go here. For rules and requirements, click here.
The 2021 competition opens on August 1, 2020 and runs through October 12, 2020.
New category this year is Coronavirus Coverage. Submit up to 6 individual pieces (stories, graphics, photos, editorials, feature stories, etc.) as one package.
Contact Jason Sanford at jsanford@ohionews.org or 614-486-6677 ext. 1014 for the association code or if you have any questions.
About the Competition
To be eligible, campus newspapers must be members in good standing in the collegiate membership category of ONMA. There is no entry fee for this competition because it is a member service included in the annual dues for ONMA collegiate membership.
The contest consists of:
Eleven categories in two divisions with first, second, and third-place certificates awarded for each. Division A - enrollment of 10,000 and up; Division B - under 10,000 enrollment.
A point system for determining a general excellence winner. The top newspaper in each division receives the Frank E. Deaner General Excellence Award.
An October entry deadline each year with awards presented the following February at the ONA Convention
Frank E. Deaner was instrumental in establishing the General Excellence Award competition, which is given to the top newspaper in each collegiate division. Frank E. Deaner was the executive director of the Ohio Newspaper Association for 20 years, retiring in 2011. Frank was instrumental in establishing the collegiate competition. He is a graduate of Ohio University where the Frank E. Deaner Scholarship provides two scholarships to students each year.
Entries are judged by a panel of professionals from ONMA member newspapers with winners notified in January.
Previous Year's Competition Winners
Maxwell Award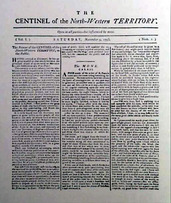 Presented by The Ohio News Media Association in recognition of outstanding individual achievement in the advancement of the news-media profession.
Winners
2009: Leonard Downie, VP of The Washington Post
2012: Representative Randy Gardner
2014: Dave Marburger
2016: Lou Colombo
2017: Frank Beeson
2018: Doug Oplinger
2019: Max Heath
The William Maxwell Award is named for the publisher and editor of The Centinel of the Northwestern Territory. Established in Cincinnati in 1793, The Centinel was the first newspaper in what would become the state of Ohio, admitted to the Union in 1803.
A soldier in the American Revolution who ventured west from New Jersey, Maxwell set up a small press in a log cabin in what is now downtown Cincinnati and published the first edition on Nov. 9, 1793, adopting the Boston spelling of "The Centinel." Maxwell's newspaper had local news, news from the East and from Europe, as well as a variety of advertisements from merchants and settlers.
According to one account, Maxwell's newspaper also contained verse, "some of it breathing the spirit of the new world, articles of a serious character, and occasionally a quotation calculated to raise a smile." The Centinel's motto was "Open to all parties, influenced by none."
Maxwell is also credited with printing the laws of the Northwest Territory and Ohio's first book, titled Maxwell's Code. He eventually sold The Centinel and moved to Greene County where he was elected to the first Ohio General Assembly in 1803. He died in 1809.
Maxwell's courage and vision led to the advancement of newspapers that continue to inform residents every day with print and online editions in communities throughout Ohio.
Criteria
A recipient of the William Maxwell Award is chosen based on a written nomination that describes an individual's outstanding accomplishments or contributions in at least one of the following areas:
Defense of the First Amendment
Championing freedom of information & the public's right to know
Exceptional service to the community through projects, news coverage, special features or continuous newspaper publication
Technical innovations or improvements to a newspaper's operations, physical facilities, products or services
Acts of heroism in the course of publishing or delivering the newspaper to its readers
Dedication or special care shown to employees
Advancement of journalism principles or journalism education
Nominees may be active in the newspaper profession at any level, may be retired from the newspaper profession, or may be involved outside the newspaper profession (examples include elected officials, community leaders, teachers, and readers).
Nomination Process
Only members in good standing of The Ohio News Media Association may submit written nominations.
Nominations may be based on the most recent calendar year or may be based on examples of continued service during an extended period of time or during a newspaper career.
The annual deadline for nominations is Dec. 15. Nominations will be reviewed by the Maxwell Award Committee which includes the president of The Ohio News Media Association, members of the board of trustees, and additional at-large representatives.
Nominations are reviewed annually, but recipients are not necessarily chosen annually. Recipients are chosen according to merit as documented in the nomination materials.
The award is presented at The Ohio News Media Association Annual Convention.