Western Reserve Academy Hosts Inaugural Event
DOs from the new Western Reserve Academy of Osteopathic Medicine welcomed osteopathic students and residents to the area, July 26, as trainees prepare to start educational programs at St. Joseph's Medical Center in Warren and St. Elizabeth's Medical Center in Youngstown.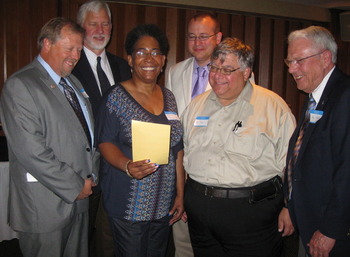 More than 80 physicians, students residents, hospital officials and their spouses attended the reception at Squaw Creek Country Club in Vienna, marking the inaugural event of the new Western Reserve Academy of Osteopathic Medicine. Students training in the area hail from both the Lake Erie College of Osteopathic Medicine as well as the Ohio University Heritage College of Osteopathic Medicine in Athens.
Sharon George, DO, compares notes with OOA President OOA John F. Ramey, DO (left) and other members of the Academy Coordinating Committee. Committee members from left to right include John Baker, DO, Doug Harley, DO, John Vargo, DO and E. Lee Foster, DO.
The new district was formed by a resolution passed by the OOA House of Delegates earlier this year, combining the counties formerly in the Warren and Youngstown Districts. A coordinating committee has been working since April to plan events for the coming year.
Sharon George, DO, served as host, while John Vargo, DO, and John Baker, DO, former trustees from District 10 and 12, gave a brief history of the former districts and welcomed everyone on behalf of the coordinating committee. OOA President John F. Ramey, DO, speaking on behalf of the OOA Board, challenged the district to plan activites around the OOA's strategic goals, which include Governance, Education, Advocacy, Research and Teamwork (GREAT).
Dues for the Western Reserve District are $100 a year. The first business meeting will be held in September.