Membership
OOA Student membership is automatically granted on a DUES-FREE basis to every student enrolled at Ohio University Heritage College of Osteopathic Medicine (OU-HCOM). Students in other AOA accredited colleges of osteopathic medicine may enroll for DUES-FREE membership by completing an online application. Join Today!
The Osteopathic Family Begins with Students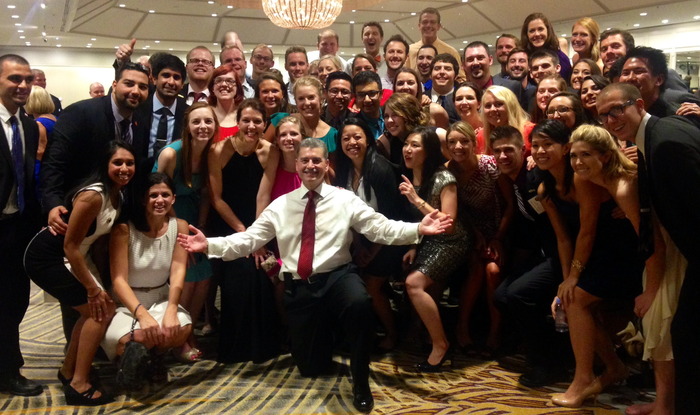 As an osteopathic medical student, you are the future of a proud profession. That's why students are enrolled as members of the Ohio Osteopathic Association free of charge. Until you complete your residency (as long as you remain in Ohio), you receive the same mailings and benefits as OOA physician members.

For OU-HCOM students, the white coat presented at Convocation is OOA's gift to you as you begin your academic career and join the osteopathic family. At graduation, you will receive another memento from the OOA to mark the occasion. These small gifts, as well as an OOA membership card, publications, and other membership services, are meant to serve as visible reminders that students are an important part of the osteopathic profession.
The OOA and OU-HCOM have a strong bond. In fact, the OOA was responsible for initiating the legislation that created the College. Check out the timeline of events leading up to Ohio Gov. Jim Rhode's signing of the bill (scroll to 1972).
Ohio Student Leadership Opportunities
Ohio Osteopathic Association Board of Trustees
The OOA has a long history of supporting student involvement in the profession--and was the first state osteopathic association in the nation to add a voting student representative to its Board of Trustees and to seat a student delegate in its House of Delegates.
OU-HCOM students have voice at the state and national levels through the Student Government Association (SGA) president, who serves as a voting member of the OOA Board of Trustees, a voting delegate of the OOA House of Delegates, and a voting member of the Ohio Delegation to the American Osteopathic Association House of Delegates. To ensure students are represented at state and national business meetings, the OOA and its affiliate, the Ohio State Society of the American College of Osteopathic Physicians (Ohio ACOFP), underwrite the cost of sending the Ohio student delegate and/or alternate to state and national delegation meetings.
If you have questions, concerns, or an interest in getting involved, contact the SGA president on your campus.


Ohio ACOFP Board of Governors
The three presidents of the OU-HCOM Family Practice Student Association (one from each campus Athens, Dublin, Cleveland) are invited to Ohio ACOFP Board meetings and have a collective vote. The State Society provides an annual $1,500 grant to support the organization. If you have questions or an interest in getting involved, contact your student representative.