Ohio Students Visit Congressional Offices During DO Day on the Hill 2014
Physician Payment Reform and GME Funding Discussed
Congress was a awash with a sea of white coats when more than 1,200 DOs, medical students, and other osteopathic representatives stormed Capitol Hill, March 6, for this year's DO Day in Washington, DC.
The largest state group hailed from Ohio, thanks to the efforts of OOA Health Policy Chair Peter A. Bell, DO. A graduate of the AOA Health Policy Fellowship Program, Bell is passionate about getting students involved in advocacy and health policy development.
"DO Day is a prime example of experiential learning," said Bell. "It's a live, hands-on classroom, where students get to talk about the issues and meet the public officials they usually only see on television."
Bell began planning for this year's trip more than a year ago with the encouragement of OU-HCOM Dean Kenneth H. Johnson, DO, who is also an enthusiastic champion for DO Day involvement. Bell's efforts included getting elective credit for third and fourth students to attend; coordinating bus transportation with the OU-HCOM Office of student affairs with the tireless help of his" lieutenant," Holly Jacobs; arranging for a Congressional-student reception; and extending the opportunity to participate to every osteopathic student in Ohio, including those at the A.T. Still School campus in Mt. Orab.
New Programs on Campus
"We even held a health policy 101 class in Athens, Feb. 24, so we could brief all of the first and second year students about the trip and health policy in general," said Bell. "That three-hour session included a health policy overview by Dan Skinner, PhD, OU-HCOM assistant professor of health policy, round table discussions facilitated by a dozen faculty members, and a health policy panel consisting of members of the profession and legislative staff."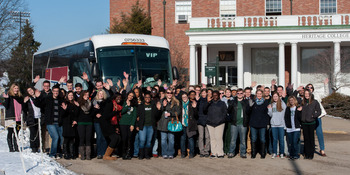 Again this year, the Ohio Osteopathic Association provided funding for a bus to take 58 students and residents from Ohio to Washington, DC and back. Unlike previous years, the bus picked up students in both Columbus and Athens to encourage participation from CORE sites. The OOA also paid to rent two smaller vans to handle the overflow.

"The bus trip is pretty intense," said OOA Executive Director Jon Wills. "The students are going non-stop from the time they leave Athens until they return. This year they didn't even have time to stop for lunch and had to pull into a rest area to change into white coats to be on time for the reception. Thanks to OOA Resident Board Member, Ed Craft, DO, for making some executive decisions that helped keep the bus on schedule."
A Reception for the Ohio Congressional Delegation
New for 2014 was a Wednesday evening reception, sponsored by Dean Johnson, at Kelly's Irish Times Pub. The bus pulled up to the pub just in time for riders to meet and greet Ohio's Congressional delegation. Reps. Steve Stivers (R-Columbus), Marcia Fudge (D-Cleveland) and Brad Wenstrup (R-Cincinnati) all stopped by to share their opinions on healthcare issues and talk with students.
"The idea for the reception was actually hatched during last year's DO Day on the Hill when Dean Johnson, OOA Past President John Ramey, Jon Wills and I were having dinner with Rep. Steve Stivers," said Bell. "Since OU-HCOM is in Congressman Stivers' district, he suggested getting everyone together for an informal event and he pledged his support in rounding up Ohio's delegation to attend.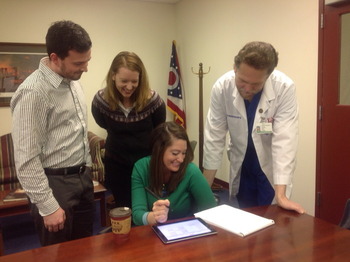 "We are especially indebted to Monica Hueckle, Rep. Stivers' healthcare legislative aide, for helping to pull the event together and arranging for guided tours of Congress," Bell continued.
OOA Health Policy Clerks Matthew Adkins and Sarah Johnson look over details for the Congressional Reception with OOA Health Policy Chair Peter A. Bell, DO and Monica Hueckle, from Congressman Steve Stiver's office.
OOA President Robert L. Hunter, DO, who, like Bell is an AOA health policy fellow, lauded this year's event for engaging the most Ohio physicians, students and residents ever. He stressed the importance of getting every DO in Ohio involved with advocacy, and he praised Dr. Bell for taking DO Day to a whole new level.
"The OOA Board congratulates Dr. Bell for a job well done," said Hunter. "Once again, Ohio is setting the standard for the profession nationally!"
The topics for this year's Hill visits included permanent repeal of the flawed Sustainable Growth Rate formula which leads to Medicare physician fee cuts and temporary "patches" each year. Participants also advocated for continued funding for Teaching Health Center Graduate Medical Education (THCGME) program, which makes it possible to train primary care residents in community-based health care settings.