Committees/Volunteer Opportunities
Interested in becoming more active in OSAE?
OSAE depends on the efforts of its many volunteers to make things happen throughout the year. Our committee activities offer a wealth of opportunities for you to get more involved, make new friends and assist with the association's annual activities. Check out the current listing of OSAE committees and chairs listed below.
Interested in joining a committee?
---
---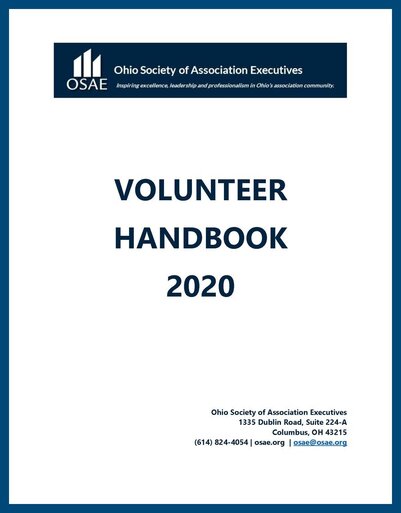 2020 OSAE Committee Chairs
Annual Conference/Holiday Luncheon Committee
Mary Ciesa
Co-liaison
Marriott International
Donna Whitby
Co-liaison
Concord Hotels
Erin Lasch
Chair
ARCSI
CAE Council Committee
Heather Cowles, CAE
Board Liaison
The American Society for Nondestructive Testing
Michael Borowitz, CPA, CAE
Chair
Clark Schaefer Hackett
Finance Committee
Deborah Trzeciak, CPA, CAE
Chair
Ohio Association of School Business Officials
Membership Committee
Evan Newman
Board Liaison
The Ohio Trucking Association
Kevin Henry
Chair
The Ohio Society of CPAs
Professional Development Committee
Denise Ison-Miller
Board Liaison
The Ohio Society of CPAs
Patti Geary
Chair
Ohio Physical Therapy Association
Public Policy Committee
Kimberly McConville
Board Liaison
Ohio Beverage Association
Michele Warholic, Esq.
Chair