Benefits and Compensation Studies
A New Resource for OSAP Members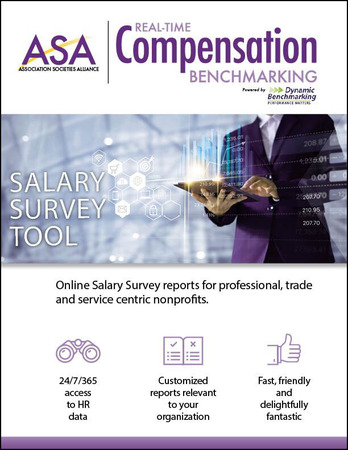 OSAP, in partnership with the Association Societies Alliance (ASA) and Dynamic Benchmarking, LLC, participates in the ASA Real-time Compensation Benchmarking program, an online compensation survey and benchmarking platform for executives of professional, trade and service-centric associations and nonprofits. The new data gathering and reporting platform, powered by Dynamic Benchmarking, is the next evolution of the biennial Association Executive Compensation & Benefits Survey, which ASA has conducted since 2013.
Initial reportable data is expected to be available for users to access and download as soon as Q2 2020.
To encourage participation in and demonstrate the value of the new program, throughout 2020 ASA will provide participating associations with free access to all data reports.

Participation in the survey itself will always be free; beginning in 2021, 365/24/7 access to the real-time data will be available with an annual subscription expected to be priced competitively with the rates most associations have been paying for the previous static biennial Compensation & Benefits Survey that OSAE has conducted in years past.
Questions? Check out our FAQs!

---
The Ohio Society of Association Professionals (OSAP) has been a long-time member of the Association Societies Alliance (ASA), an association for executives of state, local and regional societies of association executives (SAEs) across the country. Through this partnership with ASA, OSAP has conducted a compensation and benefits survey biennially since 2013.
Effective immediately, we will no longer be accepting new subscribers to the program. All current subscribers will continue to have access to their data and all reports through the end of their current subscription period. Current subscribers can still log in here.
Current subscribers may direct any questions about their subscriptions to info@associationsocieties.org.
OSAP and ASA are pursuing a new direction for providing compensation benchmarking data to associations of all sizes and scope, and will communicate any updates via your respective societies of association executives and professionals. We thank ASA and our partner, Dynamic Benchmarking, LLC, for their vision and support of the Real-Time Compensation Benchmarking program.