Complete Story

Pharmacy Students Participate in OPA's Student Legislative Day!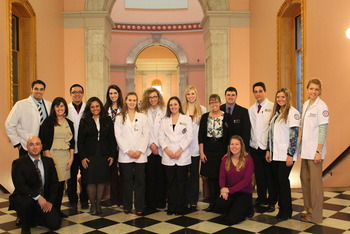 Students from Ohio's seven colleges of pharmacy participated in OPA's Student Legislative Day, February 26, at the Ohio Statehouse. This event was an effort to educate students about the legislative process and to expose them to the issues effecting pharmacy today.
Students were asked to make appointments with their state representatives and senators, research current legislation, and have an open dialogue with legislators and legislative aides about how these issues affect their professional careers. Over 60 students participated, and together they met with more than 40 legislators and legislative aides.
That morning, OPA staff highlighted key points of current legislation and discussed tips for meetings. Students then attended meetings and brought pharmacy issues to the forefront. Students also had the opportunity to attend legislative committee hearings, talk to OPA legislative staff, and tour the Statehouse.
It was a great opportunity for students from all the colleges to band together and speak with one voice about important topics for pharmacy. As one student said, "I really enjoyed learning about the current issues and getting to meet with my representative, as well as meeting up with students from the other schools."
OPA looks forward to hosting this event again next year and hopes to see even more students participate and learn how to get involved in the legislative process.

Events
←
October 2017
→
S
M
T
W
T
F
S
1
2
3
4
5

OPA office- 2674 Federated Blvd., Columbus, OH 43235

October 5, 2017




10:00AM

6
7
8
9
10
11
12

October 12, 2017




11:00AM

OPA Office- 2674 Federated Blvd, Columbus, OH 43235

October 12, 2017




10:00AM

13
14
15
16
17
18
19

OPA Office- 2674 Federated Blvd, Columbus, OH 43235

October 19, 2017




10:00AM

20
21
22
23
24

OPA Office- 2674 Federated Blvd, Columbus, OH 43235

October 24, 2017




10:00AM

25
26

OPA Office- 2674 Federated Blvd, Columbus, OH 43235

October 26, 2017

27
28
29
30
31
November 5, 2017
Makoy Center, Hilliard
November 14, 2017
8:30AM-5:00PM
November 17, 2017
3:00PM
April 20-22, 2018
Greater Columbus Convention Center, Columbus, OH
April 5-7, 2019
Greater Columbus Convention Center, Columbus, OH