COVID-19 Assistance
The OSMA is working with state leaders and diligently monitoring developments as medical practices begin to reopen and resume procedures. We will post important updates and physician resources here as new developments become available.
Resources for Your Practice

2. Order your PPE Needs through OSMA's Group Buying Partnership
Through ActionPPE, we are collaborating with medical societies around the country to connect medical practices with reputable and certified PPE suppliers. As a result, you can purchase masks, face shields, gowns and more online and have them shipped directly to your practice.
As public health experts determine that it is safe to see patients and stay-at-home restrictions are relaxed, physician practices should strategically plan when and how best to reopen.
As you reopen your practice, be mindful that transitions will occur in phases. If there is a resurgence of the virus, you will need to reassess the process and adapt.
Remember: Being open does not mean you will be as busy initially as you were before.
---
Encouraging Immunizations
With many schools not returning to in-person classes, many parents have skipped the traditional back-to-school doctor appointments for their children.
OSMA is launching an awareness campaign to help remind parents that it is more essential than ever to keep children current with their immunizations. We encourage you to share our social media posts and use this video in your communications to patients. Together, let's help keep children safe for a healthier Ohio.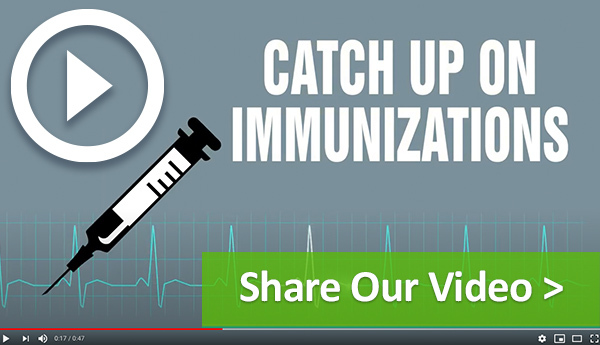 ---
MaskPlus6 Campaign Resources
| | |
| --- | --- |
| | To highlight the importance of mask wearing and physical distancing, OSMA Is proud to partner with Ohio physician organizations to launch a new campaign: Doctor's Orders: MaskPlus6. As COVID continues to spread across our state, physicians and the healthcare community play a vital role in ensuring the public understands why wearing a mask and staying six feet apart are critical actions to slow the spread of COVID. This message is especially important as state and local health authorities have implemented mask guidelines for certain regions of the state. |
---
Healthcare is Safe Campaign Communication Tools for Practices
During this rapidly changing pandemic, we understand your practice is working to balance the safety needs of patients and caregivers. We know that asking your patients and visitors to wear a mask and cooperate with new policies can be challenging—and we hope the tools below will help healthcare providers best ensure the safety of Ohioans.
1. Send an Informative Letter or Email to Patients:
You can copy/paste from this PDF letter template, then customize as needed for your practice.


2. Spread the Word via Social Media:
Post these sample messages or share and retweet content posted from OSMA.
You can copy/paste from this PDF of sample posts, then customize as needed.



3. Share These Videos for Patient Education:



We are proud to be engaging in a partnership with the Ohio Hospital Association (OHA) and Ohio Children's Hospital Association (OCHA) to spread the word that healthcare providers are safe, open and available to deliver high-quality care to Ohioans.

---
For the latest Ohio
COVID-19 updates, visit:

Or call 1-833-4-ASK-ODH
---
---
Latest News:
July 22, 2020
Testing Guidance for Physicians
---
July 1, 2020
Free Webinar: How do I get my PPP loan forgiven?
---
June 30, 2020
Top 7 Insurance & Legal Questions for Resuming Medical Practice During COVID-19
---
June 22, 2020
OSMA Announces Partnership to Help Fulfill Your PPE Purchasing Needs
---
June 17, 2020
COVID-19 treatment simulations help treat and diagnose cases
---
June 4, 2020
Ohio's Restarting and Relief Efforts
---
May 20, 2020
Ohio Providers Launch Campaign Touting the Safety of Health Care
---
May 15, 2020
OSMA's Advocacy Round Up & COVID-19 Announcements
---
May 11, 2020
Ohio Physician Practices Can Access Battelle N95 Sterilization Program—Learn how to enroll!
---
April 30, 2020
Trump Administration Issues Second Round of Sweeping Changes to Support U.S. Healthcare System
---
April 29, 2020
The HHS Office for Civil Rights (OCR) hosted a webinar on HIPAA privacy and security issues related to the pandemic


---
AMA Guidance Resources:
For Physicians & Healthcare Employees:
---