Details

November 6, 2014

12:00-2:00PM
Retired Pharmacists Committee Meeting
Ashville Apothecary - Ashville, OH
Dear OPA Retired Pharmacist members,
Our next meeting on the OPA Retired Pharmacists Committee will be Thursday, November 6 at 12:00 PM. We will be taking a bit of a field trip just south of Columbus! For the November 6 meeting, we'll be visiting the newly re-opened Ashville Apothecary & pharmacy heritage museum!
Located at 3400 State Route 752 in Ashville, it's a beautiful drive right off of US-23. Here's directions from the OPA office: https://goo.gl/maps/kQlHI. To get directions from your location, just insert your address. If you have any trouble finding the location, call Ashville Apothecary at (740) 983-2501.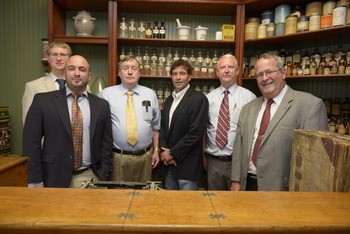 Ashville Apothecary, owned and operated by the Mabe family recently celebrated its 35th anniversary, and marked the occasion with a grand re-opening of a new facility in Ashville. The Circleville Herald recently covered the event in this article, and OPA was on-hand with state and local officials. Both the Ohio House of Representatives and Ohio Senate made special proclamations in honor of the pharmacy's major milestone.
As we walked through the new pharmacy, we couldn't help but notice the immaculate pharmacy museum that Bob Mabe had placed right within the pharmacy. The museum is loaded with old pharmacy artifacts, and Bob has agreed to take part of the afternoon to give our members a tour and to discuss some of his pharmacy treasures.
We will be meeting at Ashville Apothecary 12:00 PM. Lunch will be provided. Please let us know if you plan on attending so we order you a lunch. Also, please let us know if you have any special dietary needs.
This event is free of charge and is only available for retired members of OPA.
The event will be from 12:00-2:30 PM. This is a great opportunity to visit a great monument to Ohio Pharmacy history and to get together with friends and former colleagues. We'd love to see you there!
Special thanks to the Mabe family for hosting this special event.
Please RSVP to Antonio Ciaccia at aciaccia@ohiopharmacists.org or (614) 389-3236 by Wednesday, November 5 at the latest to let us know if we should expect you. Space will be limited. We look forward to seeing you on November 6!
Close
|
Printer Friendly Page
|
Add to my Outlook® Calendar
Events
←
November 2015
→
S
M
T
W
T
F
S
1
2
3
4

OPA Office- 2674 Federated Blvd, Columbus, OH 43235

November 4, 2015


10:00AM

5

Ohio Pharmacists Association, 2674 Federated Blvd, Columbus

November 5, 2015


5:00-7:00PM

OPA Office- 2674 Federated Blvd, Columbus, OH 43235

November 5, 2015


12:00-5:00PM

6
7
8

Makoy Center, Hilliard

November 8, 2015

9
10

Sheraton Columbus Hotel at Capitol Square and the Ohio Statehouse

November 10, 2015


8:30AM-5:00PM

11
12

OPA office- 2674 Federated Blvd., Columbus, OH 43235

November 12, 2015


10:00AM

13
14
15
16
17
18
19
20
21
22
23
24
25
26
27
28
29
30
February 28, 2016

7:30AM-5:15PM
OPA office- 2674 Federated Blvd., Columbus, OH 43235
April 15-17, 2016
Greater Columbus Convention Center, Columbus, OH
October 9, 2016
Hilton Columbus at Easton
April 21-23, 2017
Greater Columbus Convention Center, Columbus, OH