Complete Story

10/08/2018
Ulka Vaishampayan, M.D.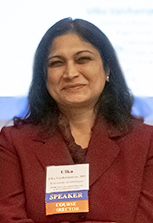 Dr. Ulka Vaishampayan is the Director of the Phase I program at the Rogel Cancer Center and Professor of Medicine at the University of Michigan, Ann Arbor MI. She has previously served as the Chief of Solid Tumor Oncology in the Department of Oncology, Wayne State University, Detroit, MI (2000-2020). She is appointed chair of the Advanced Renal subcommittee within the GU committee of the Southwest Oncology Group since 2018 and is a member of the data and safety monitoring committee within SWOG. She is an active member of the NCI Renal Task force and serves on the membership committee of Society of Immunotherapy in Cancer (SITC). She is editor–in–chief of the Journal of Kidney Cancer and VHL, a pubmed accredited journal. She serves as grant reviewer for Dept of Defense panel, KCCure and SITC and for international panels such as UK health registry, Swiss, Netherlands, Ireland health registry and Australian theses.
Dr Vaishampayan has developed, conducted and reported clinical studies in the field of early therapeutics with a focus on GU malignancies. She has served as site PI of the UM-1 grant from the national cancer Institute's Early Therapeutics Cancer Research Network and as co-PI of the Prostate Cancer Clinical Trial consortium grant from the Department of Defense. She has served as chair of the GU non prostate track of the Education Committee of the American Society of Clinical Oncology. She has published in a number of peer reviewed journals such as Journal of Clinical Oncology, Clinical Cancer Research, Cancer, and Urology and has been a coauthor on papers in the Lancet and the New England J Medicine. She has also authored numerous review articles, editorials and book chapters. She is an active reviewer for a number of journals including Lancet, J Clin Oncol, Clin Cancer res, J of Urology, Urology, Cancer, and Int J of Rad Oncol, Biol and Physics. Her research interests also include trying to evaluate novel pathways and biomarkers in cancers.
---
Report Broken Links
Have you encountered a problem with a URL (link) on this page not working or displaying an error message? Help us fix it!
Report Broken Link