Complete Story

05/23/2008
Mohammed Ogaily, M.D., FACP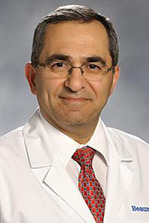 Born in Baghdad, Mohammed Ogaily left Iraq in 1982 to attend medical school at the Royal College of Surgeons in Dublin, Ireland, where he received honors in Biochemistry, Pathology, Microbiology and Otolaryngology. His Irish medical training included internship in Medicine and Surgery as well as Senior House Officer in Internal Medicine. His training in Dublin included a year of Hematology at St. James's Hospital, a leading European bone marrow transplant center and another year of Oncology training at St. Luke's Hospital cancer center.
In 1991, he began his US medical training as a Resident in Internal Medicine at Albany Medical Center following that completed his fellowship in Hematology and Medical Oncology at the University of Michigan in Ann Arbor. Dr. Ogaily is board certified in Internal Medicine and Medical Oncology and the recipient of numerous professional certifications and awards.
Dr. Ogaily has been in clinical practice in the Downriver area since 1998 and has recently established the "Downriver Oncology Center", a full service independent cancer service delivering state of the art clinical care to the local community and a "Michigan Healthcare Professionals" affiliate. Prior to that, he was the Medical Director for the Beaumont Center for Hematology and Oncology-Downriver.
He is a staff physician at Beaumont Dearborn and Trenton as well as Henry Ford Wyandotte Hospitals. He chairs the Beaumont Dearborn Hospital Cancer Committee and is a past PI for its clinical trials program.
Dr. Ogaily has an academic appointment as an associate clinical professor at Michigan State University, College of Osteopathic Medicine. He has supervising and teaching responsibilities to residents and medical students and participates in various educational professional activities through lectures and tumor boards.
Dr. Ogaily is a participant in multiple clinical trials, both cooperative and industrial and a member of SWOG, NSABP and CCOP. He is a member of ASH, ASCO, AMA, MSMS and a fellow of the American College of Physicians. He is also a member of the ASCO Practice Guidelines Implementation Network (PGIN). In 2007, he was elected to the Michigan Society of Hematology and Oncology board of directors and is a past president of its board of directors.
Dr. Ogaily enjoys spending his time with his family, playing golf with his son as well as traveling with his wife Huda and three children, Fatima, Yasmeen and Yousif.
Dr. Ogaily would like to see MSHO maintains it leadership role among other state societies, continues to serve our Michigan oncologists as their voice and forum to further the quality of care they provide and be an advocate for our patient's best medical interests.
---
Report Broken Links
Have you encountered a problem with a URL (link) on this page not working or displaying an error message? Help us fix it!
Report Broken Link