Complete Story

01/19/2010
Timothy C. Cox, M.D., FACP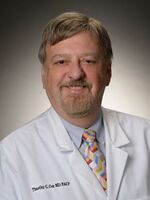 Dr. Timothy Cox is currently the Managing Physician for Bronson Oncology & Hematology in Battle Creek, Michigan.
A lifelong Michigander, he was born and raised in the downriver area of metro Detroit and received his bachelor's degree from the University of Michigan. He studied medicine at the University of Rome in Italy. Returning home to Michigan, he completed his internship and residency in internal medicine at St John Hospital and Medical Center in Detroit and his fellowship in medical oncology at William Beaumont in Royal Oak.
Prior to going to Western Michigan, Dr. Cox practiced in Petoskey and had a longtime practice in Port Huron where he served as county medical society president, Cancer Liaison Physician for the Commission on Cancer, and on multiple committees and boards. He has been involved in clinical cancer research since 1995 and is interested in studying how patients make treatment decisions and is looking for collaborators.
He is board certified in medical oncology and has a certificate in Lean Healthcare from the University of Michigan. He is a fellow of the American College of Physicians
Dr. Cox holds a private pilot's license and hopes to get back in the air soon. He is preparing for the launch of his YouTube channel "CancerDoc Online" which has been a dream for many years. He is taking virtual piano lessons and luckily has a wife who puts up with the real noise he makes.
---
Report Broken Links
Have you encountered a problem with a URL (link) on this page not working or displaying an error message? Help us fix it!
Report Broken Link