Complete Story

01/19/2010
Thomas Gribbin, MD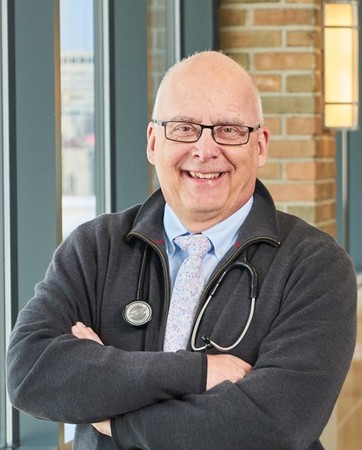 Dr. Gribbin is a graduate of the University of Illinois College of Medicine in Chicago, where he completed his internship and residency in Internal Medicine. While in Medical School, he was president of his class and received numerous awards. His fellowship in Hematology/Oncology was at the University of Michigan Medical Center in Ann Arbor. Dr. Gribbin was on the faculty at the University of Michigan Medical Center as Assistant Professor of Medicine for 10 years prior to joining Cancer and Hematology Centers of Western Michigan in 1998. Tom regularly sees patients and consults at Spectrum Butterworth, St. Mary's and Holland Hospital and has staff privileges at a dozen more western Michigan hospitals.
As founding Medical Director of the St. Mary's Lack's Cancer Center, he developed an integrated cancer treatment program. The Lack's Center is a state of the art facility that employees a centralized, patient-focused, team work approach for improving efficiency and quality of care. Holistic care starting with medical expertise and continuing through psychological, spiritual and financial counseling is offered to all Lack's Center patients.
Dr. Gribbin is board-certified in Internal Medicine, Medical Oncology and Hematology. In addition to his Board Member position at MSHO, he is a member of the American Society of Hematology, the American Society for Clinical Oncology, the American Federation for Clinical Research and the American Association for Cancer Research.
His responsibilities include a number of teaching activities and advisory and administrative committees. Dr. Gribbin has been published in numerous peer reviewed publications and has served as Physician Reviewer and Advisor for examination and licensing boards.
When Tom is not working, he considers himself "a full time Dad" for his three children, John, Will, and Marie. He enjoys listening to a variety of music, reading, and has been told he has quite the sense of humor.
---
Report Broken Links
Have you encountered a problem with a URL (link) on this page not working or displaying an error message? Help us fix it!
Report Broken Link